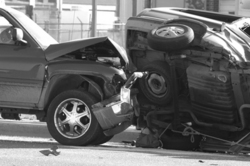 Birmingham, AL (Vocus) May 3, 2010
A new section on the attorney video web site, LegalTube.com, is designed to provide answers to some of today's common legal issues, such as car accidents. Car accidents are an everyday part of life in every major city today and often times an expensive proposition for serious car accident victims. While the first thoughts are always to major injuries and property damage, many car accidents leave their victims with less severe but long-term injuries with significant medical expenses and loss of income from being unable to work. For these accidents, it is often the events in the first few following days that determine how great a loss the car accident victim will suffer. The information found on LegalTube.com from car accident personal injury attorneys explains the rights that injured parties have, how to deal with insurance companies and other aspects of car accident injury.
The LegalTube.com attorney videos include topics such as the biggest car accident mistakes people make and six things that can make you a safer driver. Other videos answer the most frequently asked car accident questions, such as when should you call an accident attorney, what to do if the accident is your fault and who pays for car rental and medical expenses. These resources give persons having been involved in a car accident the opportunity to hear what some of the most prominent accident attorneys in the country have to say and also meet the car accident attorneys in their city through the online attorney videos.
LegalTube.com contains resources for all aspects of personal injury cases, with a personal injury lawsuit overview and in-depth articles regarding specific types of personal injury accidents and claims, personal injury attorney videos and listings of personal injury attorneys by state.
About LegalTube.com
LegalTube.com, the premier attorney video web site, offers information and resources on all areas of the law, including a video directory of attorneys by city, state and areas of practice. With articles and an extensive video legal library explaining all areas of legal practice and breaking news on dangerous drug lawsuits, LegalTube.com can help visitors navigate complex legal issues and find the lawyer right for their situation. LegalTube.com attorney videos allow users to cross-examine the attorneys before deciding which one to contact.
# # #