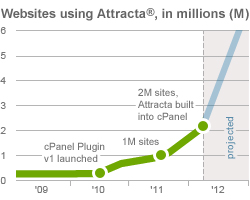 "Attracta is the first third-party software ever to be bundled in cPanel. Every site needs traffic, so it only made sense to include it as a core feature of our control panel software."

Aaron Philips, cPanel VP of Operations
Napa, California (PRWEB) May 17, 2012
In its first two years, Attracta acquired one million website customers to become the world's most popular SEO Tool provider. It took only six more months to double that to 2 million websites. Their current growth rate projects over 6 million more sites signing up within the next six months.
After releasing their cPanel plugin in March, 2011, Attracta has been installed by thousands of webhosts worldwide. Following up on that success, cPanel announced they intend to bundle Attracta as a standard feature of their webhosting control panel starting in June 2012.
"We have been very pleased with the success our web hosting partners are having with Attracta's SEO tools, and how fast the adoption has spread throughout the industry," said Troy McCasland, Attracta's VP of Business Development. "With our services becoming available through tens of thousands of webhosts in the upcoming cPanel bundle, we expect our growth to become flat-out explosive," McCasland continued.
Attracta has quickly become the world's most popular search engine optimization (SEO) tool provider, creating new revenue opportunities for data centers and hosting providers. Attracta helps website owners optimize their Web pages for inclusion in search engines by evaluating them against Google's Webmaster guidelines and other industry best practices. Attracta's technology provides tools and services, including automated XML sitemap submission, common SEO error identification, and link building that boost businesses' search engine visibility, website traffic, and sales.
"We're excited to work with cPanel and Parallels to provide tens of millions of small businesses with access to our services through their website control panels," McCasland added.
About Attracta:
Founded in 2009 by a team of successful Internet entrepreneurs in Napa, CA, Attracta develops innovative technology that helps websites of all sizes build success online. With over two million websites using its services, Attracta has quickly become the world's most popular Search Engine Optimization tools provider. The company sells its services directly, and through a channel of web hosts, web designers and search industry agencies. For more information, visit http://www.attracta.com or call 888-317-3994.
###