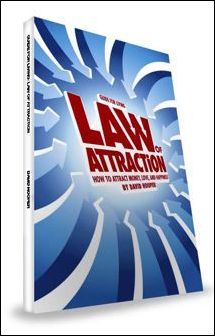 empty parking space at the right time
Nashville, TN (PRWEB) January 30, 2007
For years, music marketing expert David Hooper has made use of a mindset known as the "Law of Attraction" to help take unknown musicians from garage rehearsal rooms to arena shows playing in front of tens of thousands of people. His annual music conference brought over 40,000 attendees each year and his clients have, not only acquired recording contracts, but sold as many as 100,000 CDs. All of this success started out with one thing: Thought.
Now, Hooper has written a book which explains the Law of Attraction--offering the techniques he has used to enhance his own life and to benefit the lives and careers of his clients. His intent is to help others, from all walks of life, to realize their own aspirations.
Simply titled, "The Law of Attraction", this 80-page, easy-to-digest volume takes away the complexities, mysticism and confusion which once surrounded the idea of the Law of Attraction and, at the same time, offers instruction on how to make it work in one's life.
The release of the book comes at an opportune time as the movie "The Secret" and the teachings of Abraham-Hicks have become increasingly popular and well-received this past year.
Said Hooper, "It's exciting to witness the Law of Attraction now being talked about openly. The general public is seeing its results more than ever thanks to the people who use it. And who wouldn't want such wonderful results for themselves? That is why people are so eager to learn about it."
While other, more in depth books have been written on the subject, David chose to keep his offering simple.
"There is power in simplicity. This is a book to show people how they can quickly and easily incorporate Law of Attraction into their lives, without needing to go too deep into all its various elements," he said.
Throughout the book, Hooper emphasizes the need to first change one's thoughts in order to then change one's life. He says, it's an obvious message which has been stated often, but one that bears repeating.
"Thoughts are important because they're the foundation of our existence. Thoughts are like a drop in a pond which expands outward. You have something small inside you that spreads out and becomes larger. This can be good or bad. Whether you're part of an angry mob or a prayer circle, thoughts affect not only us, but the people around us."
For Hooper, the Law of Attraction has brought more than just money, success and the preverbal "empty parking space at the right time" type of experiences. For him, it's the personal connections that have come to mean a great deal.
"The greatest thing I've experienced from the Law of Attraction is connecting with amazing people. As an entrepreneur, the Law of Attraction has allowed me to bring people into my life which has, not only been of great benefit to me, but to my customers as well. I've had similar, enriching experiences in my personal life. Of course, it has worked for everything-- great health, finances, anything. Nothing is random."
The book, "Law of Attraction" is available in bookstores worldwide including online booksellers such as Amazon.com.
Also, a version of the book has been converted into ebook format and can be downloaded free of charge at: http://www.receivethebook.com
For any media requests, including scheduling an interview with David Hooper or acquiring a bio, photo or book cover graphic, please contact:
Wendy Wallace (publicist)
416-533-2999
###