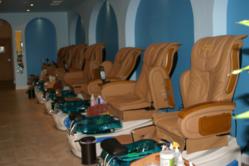 We opened with the purpose of providing our clients with healthy nails and safe nail practices," said owner Tony Tran.
Cincinnati, OH (PRWEB) February 09, 2012
Nails are the business at Attractive Nails and Spa in Cincinnati, Ohio. Owners Tony and Mary Tran decided when they opened that their salon would be known for more than just "attractive nails." In fact, their salon not only has a hidden agenda of safety, but even the salon looks different than many other nail salons. From the luxurious pedicure chairs and feet soaking tubs, to the individual stations for manicures, to the exclusive nail drying table, this salon radiates a clean and fresh smell and look.
"We opened with the purpose of providing our clients with healthy nails and safe nail practices," said owner Tony Tran. "There are so many things that can happen to a client's nails, just from getting a manicure or pedicure. We make it a practice to only use the safest ways of doing everything."
And some of those safety measures include the type of adhesive they use on acrylic nails. Many salons use a chemical that requires removal by soaking the nails in acetate for up to 30 minutes. Not only is the chemical hard on the real nails, but it is also unpleasant to the nose and may cause damage to the lungs. Over time, it can completely kill the real fingernail. Generally anyone who enters a nail salon can tell if the chemical MMA or methyl methacrylate is in use by the strong odor it emits. Attractive Nails and Spa does not use that chemical.
"We want all our customers to know that nail health and safety is our number one priority," Tony said. "We want to do things differently, and we have made a commitment to each of our customers to do so."
Another indicator of excellence is that Attractive Nails and Spa is a licensed salon and shows their license by displaying for all to see when they enter the salon. Tony said he wants people to know from the minute they walk in that their salon is one of the highest quality and excellence.
While they specialize in creating beautiful nails, giving excellent manicures and pedicures, and producing strong, healthy nails that are polished, coated with a new shellac finish or have acrylic nails put over real nails, they do it the safest and most hygienic ways. In fact, they use only the safest nail products. One fingernail polish line, Zoya, contains no harmful chemicals of any kind and makes that guarantee on each bottle.
While some hygiene issues seem like common sense, for instance never using the same tools on more than one client, Tony said it is not the case in many salons. They provide sealed and wrapped tools for each client. Some tools are used once and discarded. Every effort is made to ensure that all their practices are top of the line for safety and healthy nails. For returning customers who have acrylic nails, Attractive Nails and Spa keeps their products and polish in a box that is only used by that customer. They strive to ensure the health of all their clients.
Attractive Nails and Spa opened in 2011 in the Montgomery area of Cincinnati and have expanded their business monthly. They currently have up to six nail specialists, all licensed, and a Mary is a massage therapist who is available by appointment. They hope to continue to expand that area of their business in 2012.
For more information on Attractive Nails and Spa, visit their web site at http://www.attractivenailsspa.com.
Contact:
Tony or Mary Tran
9919 Montgomery Road
Cincinnati, OH 45242
513-985-9919
###