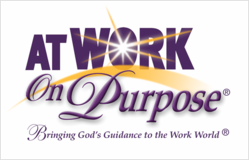 "Cincinnati is an entrepreneurial city and this shows in the strength and vitality of marketplace ministries such as AWOP and churches like Grace Chapel, which hosts self-sustaining enterprises in their facilities."
Cincinnati, OH (Vocus/PRWEB) March 17, 2011
Christian transformation leader and best-selling author Ed Silvoso called on more than 750 Cincinnati businesspeople recently to change the spiritual climates where they work to improve company corporate cultures, increase profits and establish the kingdom of God on earth.
Silvoso spoke to the At Work on Purpose-sponsored (AWOP) "Faith Forward: Initiative at Work" at Montgomery Community Church, emphasizing the power of one individual to change a company, a city, and even a nation.
"Every Christian is a minister, and labor is worship," said Silvoso. "Whatever work you do, work heartily for the Lord, not just for men."
There is a correlation between prayerful corporate cultures and profits, said the Rev. Paul Utnage, executive pastor at Montgomery Community Church. Utnage said corporate profits at companies which embrace the Great Commandment and the Great Commission of loving your neighbor as yourself and building the kingdom of God on earth report more revenues than other organizations. He just completed doctoral work on faith applications in the workplace.
"Few people have written on it from a research side," he said. "But there is a pattern in social sciences literature that indicates that prayer positively affects worker attitudes toward employers."
He said prayer creates a change in your heart and mind, and how you connect with others. Statistics indicate managers who pray with employees in the workplace are thought of as trusted leaders. Prayer in the workplace also positively impacts corporate culture and increases the number of ethical decisions made in the business arena, he added.
Silvoso said many of us are like a person with poor eyesight. Once you put on the glasses of faith, you can see clearly what has been there all the time.
He outlined the four practical steps of prayer evangelism that Christians can take to change the spiritual climates and corporate cultures of their workplaces:

Bless those you work with. Wish them well, and offer to pray for them. Create a perimeter of faith at work. Many people have problems that can affect their performance at work, and take comfort in knowing someone will pray for them—even if they are nonbelievers.
Fellowship with coworkers. Let people you work with affirm you, and affirm them. When you bless someone, the demons of backroom politics, workplace jealousies and negativity back off.
Minister to worker needs. Help those who need help at work, whether the help is emotional, educational, financial support, or prayer.
Proclaim that God has arrived. Bless your place of business and acknowledge that God is there. People respond positively to the knowledge that they are loved and supported, and that their work is meaningful to the company.
Silvoso told the story of a British missionary pastor in Phuket, Thailand who began to teach and practice prayer evangelism with his congregation. His church grew from 43 to over 3,000 people in less than three years. He is seeing his entire region transformed as those in his church step outside church walls to take the power and presence of God to their spheres of influence.
The governor became a believer and appointed the pastor his Commissioner of Righteousness. As a result, corruption was uprooted and $7 million in bribes has been returned. The money is now being used to help implement healthcare and education programs for the poor.
"We need to rely on the Father," Silvoso said. "It's not so important to have faith in God, but to realize how much faith God has in you."
Silvoso congratulated AWOP on its comprehensive programming and being the largest city-wide, faith-at-work ministry in the U.S. AWOP has more than 4,200 members, and has offices in Mason and Blue Ash.
"Cincinnati is an entrepreneurial city and this shows in the strength and vitality of marketplace ministries such as AWOP and churches like Grace Chapel, which hosts self-sustaining enterprises in their facilities," said Silvoso. "Cincinnati has the architecture in place to become a true city of God and do wondrous things in his name."
"The marketplace is one of the most important places for spiritual input," said Chuck Proudfit, AWOP founder and president. "It's where most of the issues of the day are decided. We need to see the spiritual opportunities around us a work, and the skills to pursue them.
"I hope the event awakened people's imagination for a vision beyond provision," he added. "So many of us go to work for a paycheck when we know there are opportunities for more. I hope this program helps Christians seize the opportunities in our everyday work lives to live out our faith lives at work."
Proudfit also heads SkillSource, a Cincinnati business consultancy. He leads a group of 11 Cincinnati businesspeople this month to Kisayip, Nigeria to engage in business development and training efforts and build an aquaponics fish factory as part of Self-Sustaining Enterprise's social enterprise efforts there.
He and SSE and Back2Back Ministries staff will blog about their experiences from March 16 through March 26.
Silvoso is founder and president of Harvest Evangelism, which ministers to pulpit and marketplace leaders in 300 cities on five continents. He is the author of the best-selling books Anointed for Business and Prayer Evangelism. He is arguably the world's leading practitioner of spiritual transformation initiatives on a city-wide and even national basis.
AWOP also presented its Creative Approach to Restoring Engagement (CARE) and Choices Network programming at the event. CARE is a practical tool to help everyday working Christians start applying faith mores at work. The tool asks workers to list their communities of influence and create activities to bless, fellowship, minister, proclaim and disciple each of those groups.
For example, Proudfit said, a teacher influences students, parents, the PTA, and administration. Helping, supporting, working and modeling Christ-like behaviors with other with others intentionally can help minister to influence group needs and possibly bring individuals to Christ.
The Choices Network offers eight AWOP programs to help Christians live out faith at work through stories, skills, and support. Choices offers interpersonal and relational training; business skills training; small groups; personal coaching; retreats; chaplaincy; evangelism; and business solutions.
For more information about AWOP and its programs and events, go to http://www.atworkonpurpose.org, or call (800) 513-9580.
# # #