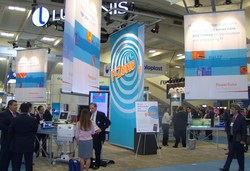 We are very pleased with the success of this year's AUA and feel that these important educational events are the perfect platform to help advance urological medicine
Santa Clara, CA (Vocus) June 15, 2010
Lumenis Ltd., a global developer, manufacturer and seller of laser, light-based and radiofrequency devices for surgical, aesthetic, and ophthalmic applications, reported today that this year's AUA drove record attendance, and the introduction of the VersaPulse P20 at Lumenis' "P-Zone" created an instant success.
The VersaPulse P20, a new compact holmium laser was introduced by Lumenis at the AUA. The P20 was a major booth draw and generated significant amount of positive feedback. The introduction was highlighted on various news sites including the medical technology website, Medgaget.com.
Visitors had a unique opportunity to enter the booth's P-Zone, an interactive multi-media area that offered physicians a chance to gain in-depth knowledge about the P20 and the PolyScope. Participants viewed educational videos on iPad's, participated in hands-on demo stations where physicians test drove the new PolyScope disposable ureteroscope, saw the new P20, and experienced the power of the VersaPulse PowerSuite 100watt.
Booth speakers drew standing room only crowds during their presentations. Topics included the benefits of PolyScope for use in urologic procedures, Holmium Laser Enucleation of the Prostate (HoLEP), the Bridge Technique also known as Holmium Laser Enucleation Ablation of the Prostate (HoLEAP), and stone dusting techniques. These procedures and techniques were also featured throughout AUA programs.
"We are very pleased with the success of this year's AUA and feel that these important educational events are the perfect platform to help advance urological medicine," said Caroline Coyle, Vice President and General Manager, Surgical.
About Lumenis
Lumenis, one of the world's largest medical laser companies, is a global developer, manufacturer and distributor of laser and light-based devices for surgical, ophthalmic and aesthetic applications, with more than 800 employees worldwide. Lumenis has nearly 250 patents, over 75 FDA clearances, an installed base of over 80,000 systems and presence in over 100 countries. Lumenis endeavors to bring the finest state of the art technology products to the market, fulfilling the highest standards of excellence, quality and reliability, delivering premium value and service to its customers. The name Lumenis is derived from the Latin words meaning "Light of Life" highlighting the light which is the basis of our technologies used to enhance life. For more information about Lumenis and its products, please go to: http://www.lumenis.com
For further information contact:
Michelle Maydan
Director of Corporate Communications
1-866-569-0597
+972-4-959-9004
The Lumenis name, its logo and VersaPulse® P20™ are trademarks or registered trademarks of LumenisLtd. iPad is a registered trademark of Apple Inc.
###