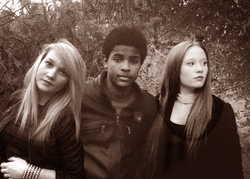 The magic of Unified Theater™ is the ability to bring both disabled and non-disabled youth together to create, perform, build lasting relationships, and establish confidence and self-esteem Aubrey Wood
West Hartford, CT (PRWEB) March 28, 2011
Building on the success of her first EP released last year, Aubrey Wood has released her new single, "Fly", featuring Trevor Jackson and Bella Blue. The single which will be available on March 29th at iTunes and other music sites will be sold with all proceeds going to benefit Unified Theater™. This new composition will also be featured in an upcoming series of public service announcements for the award winning non-profit organization.
Aubrey, a sixteen year old singer/songwriter from West Hartford, Connecticut released her first EP in April 2010 and has since built an ever growing fan base. This past fall, Aubrey released her first music video for the single, "Heart" (click here to view), directed by Matthew Campbell and most recently, the single was featured as part of a commercial campaign for Wheat Thins. Aubrey has been affiliated with Unified Theater™ for the last three years and is an avid supporter of their cause.
Trevor Jackson is a young performer who spent three years on the Broadway National Tour of Disney's The Lion King starring as Young Simba. Since then he has appeared in numerous national commercials and several TV shows including a recurring role as Kevin Blake on the Syfy Series Eureka, Cold Case, Harry's Law and most recently a new pilot for Nickelodeon. Trevor has been blessed to open and perform with Jason Mraz, Michael McDonald, Raphael Saadiq, New Boyz, Siedah Garrett and many other artists. Trevor is honored to be a part of this very special project.
Bella Blue has appeared in numerous television commercials and film including the 2007 production, Anderson's Cross. Bella has been a guest and key vocalist for several artists including K.C. Porter, Devon Gundry and Sons of Androids. A student at CHAMPS Performing Arts school, Bella complements her drama and vocal achievements as an accomplished dancer with a focus on classical ballet, modern, jazz and tap. Bella is currently in the studio working on her first EP.
"We are so proud to have the opportunity to contribute this new composition for the benefit of Unified Theater", says Aubrey Wood. "To be able to bring together such talented performers as Trevor and Bella to the cause made this production that much more special."
Founded in 2002, Unified Theater™ is a not-for-profit organization dedicated to featuring young people with and without disabilities in student-led inclusive theater groups. Each Unified Theater™ group equally features students with and without disabilities in all aspects of the production including leadership, writing, acting, stagecraft, management, dance, and music. Unified Theater™ was recognized as a finalist and introduced by American Idol's Randy Jackson at the 2010 VH1 DoSomething Awards!
According to the most recent U.S. Census, 5.9 million young people live with a disability and most of these kids interact in the same schools and communities as those without a disability. But, these students with disabilities often do not have the same positive school experiences as their peers. They hold lower social- status and have significantly lower rates of participation in extracurricular and after-school programs than students without disabilities. Fewer than 1 in 7 individuals with a disability participate in the performing arts.
To date, Unified Theater™ has partnered with 19 middle and high schools and community agencies to serve over 1,700 young people. In four of these schools, Unified Theater™ is the largest and most diverse after- school program. By 2015, Unified Theater™ seeks to empower 40,000 young people with and without disabilities through the arts.
To learn more about Unified Theater™, visit http://www.unifiedtheater.org, and to listen to "Fly" and learn more about Aubrey Wood go to http://www.aubreywood.com.
###