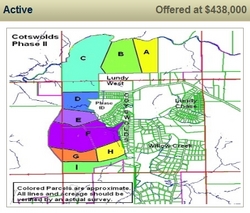 Opportunistic builders and developers have a variety of choices in Auburn Al.
Auburn, AL (PRWEB) October 14, 2010
Auburn, AL Real Estate Listings & Homes & Property
Online Auburn Real Estate listings search results powered by Weichert Realtors -Porter Properties revealed there were 1,477 properties listed for sale on the Lee County Multiple Listing Service (MLS) in Auburn and Opelika, Alabama ranging from $11,500 to $15,300,000.
While the majority of properties listed were single family residential housing units, other properties from this site showcase some of the best opportunities available for those interested in developing new housing expansion, construction, commercial real estate production and purchasing condos.
Commercial Property for Sale in Auburn, AL
There was a total of 85 commercial property types for sale in Auburn, AL. A wide variety of pricing possibilities include property from $70,000 to $10,800,000 depending on the property location, condition of property and property type. Many of these listings consist of land and lot developments for builders.
One commercial investment property which is listed for sale at $750,000 consists of a 15,407 square foot metal building which has had substantial renovation and currently is leased.
Land for Sale in Auburn, AL
Lots and acreage offered 455 results ranging from single family lots to undeveloped land with upwards of 700 acres. The possibilities for building a new home or developing a community, or commercial development are available.
Auburn Condos / Townhomes
For sale listings, included 333 active Auburn condominium with prices ranging from $54,000 for a two bedroom two bath unit with 915 square feet to $493,500 for a 3 bedroom, 3 baths, 1,514 square feet condominium.
Auburn Condominiums Highlights
Long Leaf Villas
This community offers units with 1-3 bedroom floorplans, some with attached garages, homeowner's clubhouse, 9 foot ceilings, screened porches, resort-style swimming pool, and fitness center. Conveniently located near the University campus and Tiger transit stop make this location ideal for students and others wanting to be within walking distance of accessible transportation.
Legends of Magnolia
Fifty-Four luxury condos with each unit having extras which you will find amazing such as gourmet kitchens, spacious living areas, and underground parking. Centrally located across the street from Auburn University and historic downtown Auburn, so the residents of Legends have more options available to them.
Tiger Suites
Seventy three fully furnished suites offering five different floorplans, and all with full kitchens, fitness facilities, front desk (limited hours), cable, and internet to name a few amenities you will find attractive. The complex is within walking distance to campus, and very close to the stadium for all you football fans.
Madison Park
Another Auburn condominium community, Madison Park, is conveniently located one mile from the University, a veterinary school and the Tiger transit stop makes these ideal for both beginning mavens, students and those seeking spacious units.
Gatewood Villas
These two story, two bedroom townhouses are reasonably priced with open floor plans. Inspiring amenities are perfect for entertaining friends and family members.
###