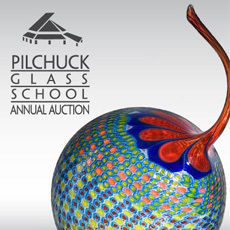 Seattle, Washington (PRWEB) October 10, 2008
Dazzling art created in glass like you've never seen before can be yours at the Pilchuck Glass School Annual Auction, broadcast live in real time on Auction Network, from Seattle, Washington. Over seventy breath‐taking pieces by established and emerging glass artists from around the world will be available Thursday, October 30th at 9 CDT/7PDT on auctionnetwork.com.
Pilchuck Glass School, founded by internationally renowned glass artist, Dale Chihuly, is known for its talented students who create one‐of‐a‐kind works of contemporary art. Now you can own one of these renowned pieces that celebrities have collected for years. Proceeds from this gala auction will be used to support Pilchuck Glass School's operations including its generous scholarship program.
This is an extraordinary opportunity to own one of the most beautiful and timeless pieces of glass artwork in the world. And it all happens live in high‐definition with real‐time bidding that you can do anywhere it's convenient for you, from Auction Network.
Register now! It's free and easy to Watch, Bid, and Win!
Auction Network is the first 24/7, multimedia network solely dedicated to auctions. Auction Network celebrates the sport and competitive spirit of auctions with a fast paced, interactive programming environment where buyers meet sellers.
Media contact:
DC Roberts
Auction Network
918-362-6794
# # #