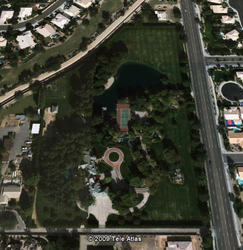 This Arizona liquidation auction is just one of the many unique, on-site auctions we feature at Auction Systems
Phoenix, AZ (PRWEB) September 4, 2009
An Arizona liquidation auction will be hosted in the estate of Dr. Soraya by Auction Systems Auctioneers & Appraisers, Inc. on Saturday, September 12, 2009.
The valley dentist who pioneered the use of special sedation techniques in dental procedures purchased this unique 20 room mansion on 10.5 acres just three years ago. His unexpected death in June of this year forces the liquidation of the contents of the home along with the real property.
"This Arizona liquidation auction is just one of the many unique, on-site auctions we feature at Auction Systems," said Deb Weidenhamer, CEO of Auction Systems. "This auction, in particular, will be perfect for those who have been searching to live the life of the rich and famous without having to spend a fortune."
The gable style home looks more like the homes of the elite of New York's Hamptons than something you would find in Arizona. From entry into the sprawling grounds as you drive by the tennis court and the lake with its own lakehouse and paddle boat to the cobble stone circular drive, you are struck by the majesty of this unique house. The hand carved front door opens into a rotunda complete with chandelier and domed stained glass ceiling.
Each room in the house tells a story beginning in the library with its English antique furnishings, grand piano and vintage and rare books to the theater room complete with old European church pews for seating. Step into the game room with its craps, blackjack pool, and poker tables. Enter the grand dining room with its hand carved table for ten atop oriental carpet and you're off into the master chef's kitchen with all its wares.
The bedrooms with European carved furnishings are luxurious and the bedding exquisite. More upstairs rooms include a party room complete with lift size statues of the Blues Brothers and jukebox. Even the butler's quarters are furnished in elegance.
The outer grounds include a 20 car garage with Jaguar, Mini-Cooper, Toy Hauler, Indian Motorcycle and tools. Plus much of the medical equipment from Dr. Soraya's practice will also be sold. The gym facility features great work-out equipment and the home is surround by outdoor furniture and sculpture.
To settle outstanding debt everything will sell to the highest bidder in this Arizona liquidation auction, regardless of price. The mansion which is bank owned will also be offered at auction with a down payment required and a bid that must be approved by the bank.
The auction will be held on Saturday, September 12, 2009, and will begin at 9:00 A.M. MST on location at 1220 N. Kyrene Road in Chandler, Arizona. All of the items listed in the auction may be previewed and inspected by interested bidders on Friday, September 11, 2009 from 11:00 A.M. to 7:00 P.M. and on auction day, Saturday, September 12, 2009 from 8:00 A.M. to 9:00 A.M., one hour prior to the auction.
Some of the items available at the Kyrene Mansion auction will be: artwork, bronze sculptures, casino gaming tables, video arcade games, pool table, fine furniture, paddleboat, exercise equipment, electronics including flat screen televisions and more.
These items will be available for online bidding one week prior to the live auction on Saturday, September 5, 2009, ending at midnight prior to auction day. Interested parties can visit Auction Systems' Arizona liquidation auction schedule and sign up for online bidding.
About Auction Systems Auctioneers & Appraisers, Inc.
Auction Systems Auctioneers & Appraisers, Inc. is the Southwest's most active auction and appraisal company. Auction Systems features live and live simulcast auctions and appraisals of stolen and confiscated Police and personal product including cars, tools, electronics, jewelry, sporting, coins and surplus, as well as auctions of commercial and heavy equipment, real estate, antiques, guns, estate and business liquidation and bankruptcy.
Based in Phoenix, Arizona and an INC. 500 company, Auction Systems is one of the fastest growing privately held companies within the United States. Additionally, Auction Systems is an ICIC INC. 100 company and is ranked as the #1 fastest growing woman-owned business and the fifteenth fastest growing business overall within the inner cities of the United States.
Auction Systems Auctioneers & Appraisers, Inc. can be found on the web at auctionANDappraise.com.
# # #