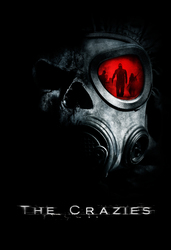 We have never seen such an exciting walk on role. Usually, an auction winner plays a more subdued and casual role, but this experience is a dream come true for a true fan of the horror genre
(Vocus) April 10, 2009
Auction Cause and Participant Media have teamed up to present an eBay charity auction for a walk-on role in Overture Films and Participant Media's horror thriller, The Crazies, with the proceeds to benefit Greenpeace.
Directed by Breck Eisner, The Crazies revolves around the inhabitants of a small Iowa town who are beset by death and insanity after a plane crash lets loose a secret biological weapon into the water supply. The film was inspired by George A. Romero's 1974 cult classic of the same name.
The lucky winner will be given a chance of a lifetime to play one of the infected townspeople in The Crazies on location in Iowa on April 17, 2009.
The auction can be found online at: http://www.ebay.com/crazies, and ends at 7 p.m. PST on April 9, 2009.
"We have never seen such an exciting walk on role. Usually, an auction winner plays a more subdued and casual role, but this experience is a dream come true for a true fan of the horror genre," commented Auction Cause President, Eric Gazin.
Participant Media is the leading provider of entertainment that inspires and compels social change. Said Ricky Strauss, Participant Media President, "Since The Crazies deals with the dangers of bio-toxins, we're delighted to be able to offer fans the opportunity to realize their dreams of appearing in a horror film while supporting an organization dedicated to protecting the environment."
About Auction Cause:
Auction Cause is the leader in cause marketing campaigns, branding, and fundraising utilizing the eBay platform, generating more than 1 billion media impressions and counting. By integrating our clients' campaigns with social media outreach using Twitter, Facebook, blogs, viral videos, and more, Auction Cause is able to tap an even wider audience. The results are brand loyalty, nonprofit enthusiasm, and celebrity buzz - all while raising serious money for causes. For more information, please visit http://www.auctioncause.com.
About Participant Media:
Participant Media is a Los Angeles-based entertainment company that focuses on socially relevant, commercially viable feature films, documentaries and television, as well as publishing and digital media. Participant Media is headed by CEO Jim Berk and was founded in 2004 by philanthropist Jeff Skoll, who serves as Chairman. Ricky Strauss is President.
Participant exists to tell compelling, entertaining stories that bring to the forefront real issues that shape our lives. For each of its projects, Participant creates extensive social action and advocacy programs which provide ideas and tools to transform the impact of the media experience into individual and community action. Participant's films include The Kite Runner, Charlie Wilson's War, Darfur Now, An Inconvenient Truth, Good, Night and Good Luck., Syriana, Standard Operating Procedure and The Visitor.
About Greenpeace:
Greenpeace is an independent global campaigning organisation that acts to change attitudes and behaviour, to protect and conserve the environment and to promote peace by catalyzing an energy revolution, defending our oceans, protecting the world's ancient forests, working for disarmament and peace, creating a toxic free future, and campaigning for sustainable agriculture.
For more information, visit http://www.greenpeace.org.
Contact:
Lisa Angelo
Director of Communications, Auction Cause
Lisa (at) auctioncause (dot) com
Phone 323-655-0554
Fax 323-375-1507
Alice Zou
mPRm Public Relations
Azou (at) mprm (dot) com
Phone 323-933-3399
###