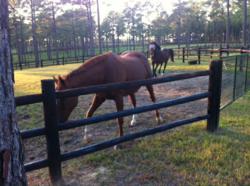 Our loss will be someone else's gain... the difference is we can afford to sell at whatever the market demands
Pinehurst, NC (PRWEB) January 02, 2012
Surprisingly, a February absolute auction in Southern Pines, NC is not being driven by foreclosure, bank REO or short selling. It is the rare value that can only be found when the truly wealthy dispose of their real property assets in a live absolute auction.
In one seller's own words, "We have no debt. The markets are soft, our children have grown and moved to other areas. We no longer need this fantastic property. We can afford to sell, and we will accept what the market offers on the auction day. We're merely moving on."
Properties being offered include: a 10-acre horse farm with a three-bedroom bungalow, a 20-acre horse farm with a four-bedroom main home and stable (that exceeds the quality of many American homes), and a 30-acre home with 15 acres under paddocks.
Pinehurst & Southern Pines has seen such luminaries as sharpshooter, Annie Oakley, who ran the Pinehurst Gun Club to golf greats Jack Nicklaus, Johnny Miller, Ben Hogan, Babe Zaharias, Patty Berg and Arnold Palmer. Presidents Nixon, Eisenhower, Ford and Bush are also among the notables to enjoy the magic of this playground for the wealthy.
Nicholas Varzos, President of Exclusively Auctions says, "We represent capable and motivated sellers. We only offer properties at Absolute Auction. We believe 'reserve auctions' are merely another form of retailing - and not real-market expressed value."
Bidders will be required to provide a $25,000.00 refundable cash or certified funds deposit with Stewart Title for every property they wish to bid on at the absolute auction. All bidders should have a local broker for assistance with comparable valuation and purchase advice. Appraisals, inspection reports, and more are available on Exclusively Auctions website.
The properties are available at open house every Wednesday, Saturday and Sunday beginning January 15th. Proxibid.com will also host a live real-time portal to the auction for anyone that cannot attend the auction in person on February 16th. For more information, contact Nicholas Varzos directly at (916) 826-7310 or call your local broker to set a viewing.
FOR INFORMATION: Contact David Schwoegler
Public Information Officer (916) 826-7310
Exclusively Auctions, Inc - dba MyNextAuction.com
###