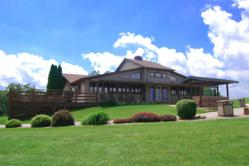 Becoming a sponsor of IIC allows Auctions by ATG to provide our clients with a socially responsible way of doing business.
Chicago, Illinois (PRWEB) May 03, 2013
Commercial real estate auctions leader, Auctions by ATG, is proud to announce it has become a sponsor of Investing in Communities (IIC), a philanthropic organization that enables businesses and individuals to fund nonprofits through real estate transactions. Auctions by ATG pledges to donate, through IIC, at least 20 percent of any commission it receives from a property seller to the nonprofit of that seller's choice. If the seller who brings Auctions by ATG a property to auction wants to participate in an IIC related donation from Auctions by ATG, they can now do so and reap additional, social benefits from working with Auctions by ATG.
"Becoming a sponsor of IIC allows Auctions by ATG to provide our clients with a socially responsible way of doing business," said Diana M. Peterson, executive vice president of Chicago-based Auctions by ATG. "Giving back to communities is a priority to us as well as many of our clients. We are excited to now offer our clients a unique opportunity to help us support the causes they care about. They get top dollar for their property and at the same time increase their positive social impact, generating goodwill and advancing corporate social responsibility."
Auctions by ATG clients will be able to participate in the IIC program beginning with Auctions by ATG's next commercial real estate auction scheduled for May 31, 2013. That auction currently features an approx. 12,000-square-foot office/retail building in Worth, Ill., an approx. 6,500-square-foot commercial building with eight hydraulic lifts and eight bay doors in South Holland, Ill., a hot mix plant in Belvidere, Ill., an approx. 120-acre, 18 hole golf course with 90 acres that could be used as tillable farm land near Galena in Stockton, Ill. Also featured in the May 31, 2013 auction are multiple tracks of vacant land, including: approx. 23,782 acres in Flossmoor, Ill. zoned for planned business, approx. 26.4 acres in Matteson, Ill. zoned for mix-use, approx. 10 acres in Spring Grove, Ill. and approx. 9.75 acres in a densely populated area of Bartlett that is ideal for commercial use. Buyers can bid live or online on these Chicago-area properties.
The next auction for Auctions by ATG will be an online only residential property auction May 1, 2013. It includes a mixture of single-family, multi-family, condos and vacant land in Chicago, Hazel Crest, Calumet City, and South Holland, Ill., as well as Merrillville, Ind.
Through the IIC program, a seller who lists their property with Auctions by ATG can support their favorite nonprofits at no personal cost. When the auction property sale closes, Auctions by ATG receives its commission from the seller and sends the percentage pledged to IIC. IIC then distributes the pledge to the nonprofit the seller selected, and publicizes the seller's participation and role in the donation. IIC retains 8.75 percent of funds earmarked for distribution, passing on 91.25 percent to the selected nonprofit partners. In addition, IIC retains $50 from only the first annual distribution to a partner. This revenue helps offset IIC's operating expenses.
"With our sponsorship of IIC, we can now give our clients and the nonprofits they support targeted local exposure, and national visibility," Peterson said. "Everyone wins in this scenario. Our clients support their favorite nonprofits at no cost to them; our client's favorite nonprofits receive funding from us; and Auctions by ATG attracts more business because we're making our real estate deals make a difference."
Using the online bidding service, http://www.atgbidder.com, bidders can access research and analytical tools to evaluate properties prior to auction. On auction day, registered bidders can view both live-streaming video and a real time, live bidcast on the online bidding website, providing them the opportunity to observe the auction and electronically raise their bids. Buyers unable to participate can confidentially submit a maximum bid to the online bidding service and authorize a bidding service agent at the auction to submit bids on their behalf up to their maximum.
Interested parties should visit http://www.auctionsbyatg.com to register to bid and join the mailing list to receive upcoming auction notices.
Launched in 2011, Chicago-based Auctions by ATG, a provider of live and online real estate auctions, is a wholly-owned subsidiary of Chicago-based Attorneys' Title Guaranty Fund, Inc.
About Auctions by ATG
Auctions by ATG, a wholly-owned subsidiary of Chicago-based Attorneys' Title Guaranty Fund, Inc., is a provider of live and on-line residential and commercial real estate auctions. To sellers Auctions by ATG provides a more cost effective, quick and professional auction platform than its competitors. To investors and home buyers, Auctions by ATG offers: property at attractive prices; a professional and transparent bidding process; and access to substantial property and title research.
For more information about Auctions by ATG, visit the firm's website, http://auctionsbyatg.com/.
To learn more about Attorneys' Title Guaranty Fund, Inc., please visit http://www.atgf.com/.
# # #
Editors: For more information or to schedule an interview, contact Mark Thomton at (312) 267-4523 or mthornton(at)taylorjohnson(dot)com.