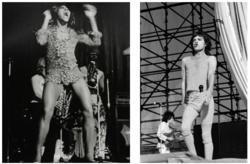 New York and Berlin (PRWEB) May 09, 2011
Beginning May 6, artnet Auctions will present over 100 prints, photographs, paintings, sculptures, and works on paper by artists representing some of the most celebrated Rock 'n' Rollers from the 20th century to the present.
Leading the sale is an exceptional collection of 1960s and 1970s silver gelatin photographs by Rock 'n' Roll photojournalists including Barrie Wentzell, Michael Putland, Mick Rock, and Charles Gatewood. Also featured are portraits of Madonna, Kurt Cobain, and Deborah Harry, and vintage and modern prints of rock icons performing including Chuck Berry, Little Richard, Bob Dylan, Jimi Hendrix, Mick Jagger, David Bowie, The Beatles, Tina Turner, Lou Reed, Jim Morrison, Nina Simone, Bruce Springsteen, Oasis, The Ramones, and The Dictators with Miss All Bare.
Other highlights: a unique mixed-media collage of The Beatles by Andy Warhol (est. USD 45,000–65,000), rock star screen prints by Russell Young of Elvis, Jimi Hendrix, and Sid Vicious, and a fabulous and rarely-seen portfolio of 10 vintage gelatin silver prints of Johnny Cash, Joni Mitchell, David Crosby, and others by rocker Graham Nash (est. USD 8,000–12,000).
Rounding out the sale are two plaster sculptures Peaches' Peaches (est. USD 2,000–3,000) and Curved Collection (est. USD 3,000–5,000) by Cynthia Plaster Caster, several screen prints including Sgt Pepper by Christian Marclay (est. USD 4,000–5,000) and Mick Jagger by Andy Warhol (est. USD 2,800–3,800), and a rare acrylic and spray paint canvas USA (est. USD 4,000–6,000) by punk rocker Dee Dee Ramone.
Visit the sale on artnet Auctions: http://www.artnet.com/auctions/rock-and-roll-collection.
About artnet:
artnet has been online since 1995 and is host to approximately 2,000,000 visitors each month. Through its Price Database of over five million auction sales results and artnet Galleries of over 2,100 galleries worldwide, artnet is the leading online resource for the international art market. With artnet Auctions, artnet has added a transaction platform to its successful information services.
http://www.artnet.com | artnet.de | artnet.fr
Artnet Worldwide Corp., 61 Broadway, 23rd Floor, New York, NY 10006-2701, U.S.A.
###