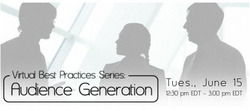 Menlo Park, CA (PRWEB) June 9, 2010
Unisfair, the leading provider of virtual engagement platforms, will host a free two and a half hour live virtual event for marketing professionals and event planners on Tues., June 15. The first in a series of three shows on virtual best practices, "Audience Generation" will offer tangible 'how to' advice on attracting a motivated, engaged and targeted audience when hosting a virtual event.
"Marketers clearly understand the value of virtual engagement, as evidenced by our continued year over year growth," said Stu Schmidt, vice president of Global Sales and Services at Unisfair. "Our customers have shared feedback with us that they need to better understand how to drive their key constituents to the virtual environment. This showcase event was designed specifically to arm them with the tools and tactics they need to draw significant crowds."
Title: "Audience Generation"
Date/Time: Tuesday, June 15, 2010 from 12:30 - 3:00 pm EDT
Registration: http://events.unisfair.com/index.jsp?eid=140&seid=1437&code=pr
Attendees will learn fresh strategies and practical tactics to drive virtual event registration from a panel of virtual event experts, including:

Gina Schreck, Synapse3Di: How you can leverage social media tools to really spread the word.
Kent Tibbils, ASI Computer Technologies: How ASI uses email campaigns to drive record attendance.
Jessica Cohen, Unisfair: Build event registration pages that capture your audience.
Steve Gogolak, Cramer: Creating an audience generation framework that will make your next event wildly successful.
Tina Gaccetta & Tim Boileau, Carlson Marketing Worldwide: Ideas on identifying and reaching your audience to drive registration and attendance.
More specifically, attendees will learn:
How to create buzz before your event begins
Tips and tricks for compelling audiences to register
The nuances of a virtual event audience
How higher registration results in more awareness, more leads and more excitement
For more information, visit http://www.unisfair.com.
About Unisfair
Unisfair provides virtual events and environments that deliver highly measurable results for the world's most innovative enterprises. The company's industry-leading platform enables companies like Ariba, CA, IBM, Intuit, KPMG, Quest Software, and Novartis to implement a virtual engagement strategy across the customer lifecycle.
Unisfair's virtual events are easy-to-use and offer a highly interactive experience through speaking sessions, exhibition floors and networking areas. By delivering comprehensive attendee data, Unisfair's virtual events result in highly qualified leads and enhance demand generation, community building and customer advocacy.
Backed by Sequoia Capital and Norwest Venture Partners, Unisfair is headquartered in Silicon Valley and has led the virtual events space since 2000. For more information, visit http://www.unisfair.com.
# # #