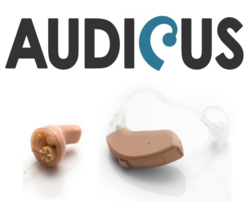 A hearing aid is far less complex than an iPhone, yet it costs five times more.
New York, NY (PRWEB) September 20, 2011
Audicus (http://www.audicus.com), a novel provider of quality hearing aids, launched last month with an online retail model that could save consumers thousands of Dollars.
Hearing aids are incredibly expensive. A pair can cost anywhere from $3,000 to $8,000, with virtually no coverage from insurance schemes. In the US, 35Mn people suffer from hearing loss. However, only 25% use hearing aids and price is often quoted as one of the main barriers to adoption.
According to Audicus' Founder, Patrick Freuler, the high price is not due to the technological complexity of the device, but to markups imposed by intermediaries such as manufacturers and retailers. A modern hearing aid costs less than $150 to produce, but is sold for up to 25 times more. "Most of the components are commoditized and the manufacturing is done in the Far East", Freuler says, "A hearing aid is far less complex than an iPhone, yet it costs five times more."
Audicus aims to change this. By removing many of the aforementioned intermediary costs, it offers the same high quality hearing aids directly to the consumer - at up to 80% lower prices. Custom programmed hearing aids at Audicus start from $199, as opposed to thousands of Dollars. Similar to eyeglasses or contact lenses that can now be bought over the internet, Audicus' customers can browse a range of devices, submit a prescription and receive the devices directly in the mail. Audicus has a 45 day money back guarantee, thus providing a risk-free environment for consumers to try a new device. While the company is still young, customer reviews have been extremely positive.
Due to the steady growth from an ageing population and the noisy lifestyles of younger generations, the market seems ripe for disruption. Seniors are also becoming increasingly avid internet users, and thus better educated and more vocal. Customers will eventually demand more alternatives than the limited choice of traditional hearing clinics and the industry will have to adapt accordingly.
Audicus is aware that this market will become competitive. Alternative channels will evolve besides the internet: pharmacies and mass retailers like Costco have recently made some inroads into the space. To maintain its competitive edge, Audicus is focusing on strong product quality, great specialist support, customization (i.e. when custom-programming a hearing aid) and integrity. "Credibility and choice goes a long way", says Freuler, "and the hearing industry has been owing it to consumers for a long time."
About Audicus
Audicus is an online retail model for quality hearing aids that offers a far more affordable alternative to traditional channels. It was founded in January 2011.
###