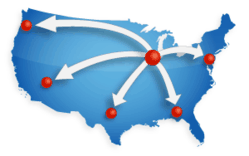 RemotePoll and WebKeypad can significantly reduce the cost of the meeting and allow for remote participants to feel like they're part of the group.
Philadelphia, PA (PRWEB) January 23, 2012
Meridia Audience Response recently completed an event that utilized remote audience polling technology RemotePoll and WebKeypad. The system allows the presenter to invite participants from around the country to participate in group polling session that is part of a presentation. While the audience in the venue uses hardware wireless keypads, the web participants can use their web-enabled smartphones, tablets or their computers to express their opinion.
The Meridia system integrates and works seamlessly with any TV and web broadcast technology that is available on the market today. Setup and testing of the audience polling system can be completed in three simple steps and basic Windows and web browsing knowledge are the only requirements.
Group's feedback is tabulated together in the final report, as if everyone was in the same room. Excel® and Word® output was provided at the end of the meeting for a thorough analysis. RemotePoll and WebKeypad are parts of Meridia's large group response technology portfolio that make it easier for remote locations to feel like their participation matters. At the same time, the organizer can enjoy lower overall cost of the meeting and minimum travel expenses.
Since the pilot event was a thorough success, the client is planning on using the technology even more. Every month, they are going to keep in touch with their employees around the country through online town hall meetings. These discussions will enable them to share their successes and learn from them, voice their opinion and resolve problems that arise.
Since 1970, Meridia Audience Response has been providing innovative technology solutions for the meeting, training and entertainment industries. Combining the experience with the latest in web technology and radio frequency hardware, Meridia is enabling audiences around the world to cast their vote and be part of the meeting, whether it involves training or interactive games.
###