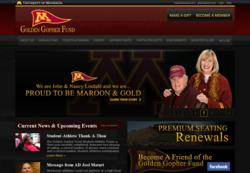 "The website provides us with a platform where we can share our story and inspire donors to continue to support the Athletics Department," said David Crum, Associate Athletics Director at Minnesota Athletics.
Toronto, Ontario, Canada (PRWEB) April 21, 2011
AudienceView Ticketing, a leading provider of advanced and flexible ticketing services to venues and sports organizations worldwide, announced today that the company has extended its partnership with the University of Minnesota Athletics Department. Minnesota Athletics will further leverage AudienceView's Content Management System (CMS) to power GoldenGopherFund.com, a brand new website dedicated to the fundraising initiatives through the Golden Gopher Fund. Minnesota Athletics has been an AudienceView client since 2006 and recently signed a five-year extension.
The purpose of the Golden Gopher Fund, the fundraising arm of Minnesota Athletics, is to provide opportunities for the University's 750 student-athletes by seeking philanthropic support from individuals, families, and corporations. As such, one of the Golden Gopher Fund's key responsibilities is to raise the revenues required to fund the scholarships that ensure academic and athletic opportunities for the student-athletes that represent the University in 25 sports in the Big Ten Conference.
The new website, born from the success of the MyGopherSports brand that launched in the fall of 2010, is dedicated to informing, educating and inspiring donors and fans to get involved with Gopher Athletics.
"We're very proud of the recently launched GoldenGopherFund.com," said David Crum, Associate Athletics Director at Minnesota Athletics. "We capitalized on our existing software partnership to dramatically improve the relationship we have with our donors. The website provides us with a platform where we can share our story and inspire donors to continue to support the Athletics Department."
The launch of GoldenGopherFund.com is further evidence that the AudienceView solution is both powerful and flexible enough to serve the growing needs of Division I Athletics Departments. Minnesota Athletics now utilizes AudienceView's CMS to power their ticketing (MyGopherSports.com) and fundraising (GoldenGopherFund.com) websites. The separation of ticketing and fundraising on the front-end improves the fan/donor experience because the information is organized more efficiently across two highly-dedicated websites.
"We are delighted to extend our relationship with the University of Minnesota Athletics Department," said Mike Evenson, Director of Business Development at AudienceView Ticketing. "In the past six months, Minnesota has launched two websites that serve different purposes. This is not unique to college athletics, but what is unique is the ability for fans to use a single login across both websites. Our solution is built for this type of targeted fan engagement. The noise created by MyGopherSports.com and the GoldenGopherFund.com has already attracted a great deal of interest from colleges and universities around the country and we expect that to continue."
As a trusted partner, the Minnesota Athletics Department engaged with AudienceView and enlisted the company to design and build GoldenGopherFund.com to better interact with their fans and donors. The flexibility of AudienceView's CMS tool allowed the University to dictate the look and feel of the website, in addition to developing unique content that spoke directly to their desired donor demographic.
On the back-end, the donor website is fully-integrated with the ticketing management solution that powers MyGopherSports.com, which means that the Athletics Department can manage and report on activity on separate websites in a single, shared database. The Athletics Department can use the data collected from both ticketing and fundraising transactions to properly segment and target their fans to drive exponential revenue.
The end-user experience is also improved because fans will be able to interact with both properties using a single login. In addition to the simplicity of a single login, fans and donors can access all of their personal information and a history of their transactions when logged into their online account. Fans can visit GoldenGopherFund.com to make donations and to pre-purchase exclusive tickets to Gopher Athletics events, parking, golf outings, galas and other special packages.
The all-new GoldenGopherFund.com will include the following key features:
– New student-athlete campaign
– Interactive benefits chart
– Dynamic availability to purchase events and games
– "My Account" area that details account information including Gopher Points
– RSS feed from GopherSports.com
About the University of Minnesota Athletics
An NCAA Division I affiliate and proud member of the Big Ten Conference and the Western Collegiate Hockey Association (WCHA), the University of Minnesota Department of Athletics is one of the nation's premier intercollegiate sports programs. Located in the Twin Cities of Minneapolis and St. Paul, Minnesota Athletics sponsors more than 700 student-athletes competing in 25 sports and is a consistent top-25 finisher in the annual Learfield Directors' Cup standings. Winners of 23 national championships and 176 regular season Big Ten and WCHA championships since beginning intercollegiate competition in 1876, Minnesota Athletics also boasts a proud academic tradition and has produced 101 Academic All-Americans. To learn more about University of Minnesota Athletics, please visit http://www.gophersports.com.
About AudienceView Ticketing
AudienceView Ticketing provides a fully integrated, web-based ticketing, CRM and fundraising solutions to more than 140 sports, arts, entertainment and non-traditional ticketing organizations worldwide. Supporting both in-house and hosted ticketing models, AudienceView's white-label solution offers the ability to create unlimited online brands, control your venue and event data, access real-time business data and interact directly with your customers. AudienceView's leading-edge solution opens the door to superior venue management, an enhanced customer experience and ultimately, increased revenue. For more information about AudienceView Ticketing, please visit http://www.AudienceView.com.
# # #