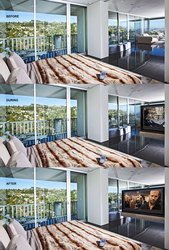 Although they are humble, I feel that we have the best technical team in the country. It's great to see everybody's passion and hard work get recognized by CEA TechHome in such a big way. We are truly grateful for the acknowledgement
West Hollywood, CA (PRWEB) June 8, 2010
DSI Entertainment Systems, an Electronic Systems Contractor specializing in custom audio video installation, home cinema, media rooms, and home automation systems has been awarded the following four awards by the Consumer Electronics Association's (CEA) TechHome division: 'TechHome Audio Video Integrator of the Year' (see May 4, 2010 Press Release), 'Ultimate Home of the Year' - Platinum, 'Multi-Room Audio Video Project of the Year' - Gold, and 'Innovation Award' - Gold. DSI was recognized for these awards for outstanding leadership in architectural audio video design and installation.
DSI was recognized for a Santa Barbara, California installation that was the award recipient for both the Ultimate Home of the Year and Multi-Room Audio Video Project of the Year. Some highlights of this installation include: A Crestron home automation system offering intuitive touchscreen control of multiple media rooms, whole house music, a Vantage lighting system, a Kaleidescape movie and music media server, an AppleTV, five DirecTV DVRs, HVAC, security integration, CCTV, fountains, and the pool & spa. This 'smart home' control is accessible both from indoor and outdoor flush-mount color touch panels and handheld touchscreen remote controls. High-performance speakers are cleverly hidden throughout the home; some hidden behind metal grilles and others painted to match the home's mahogany paneling. Almost all of the home's audio/video components are hidden in a remote equipment room, allowing ease of servicing and removing heat and noise generating components out of the living spaces.
The Innovation Award was received by DSI for a Beverly Hills condo installation. The Home Theater / Media Room features a 97" diagonal projection screen which descends from an architectural recess in the ceiling, fully concealing its presence when not in use. Sonance Architectural Series speakers are flush-mounted in the ceiling and architecturally aligned with the ceiling's lighting fixtures to create an eye-pleasing symmetry. The video projector is concealed in a closet behind the Media Room with the projector's lens aperture hidden behind a picture frame. In the Master Bedroom, DSI designed a motorized slide-out TV lift that was able to fit within the wall cavity and open through a self-closing flap. The bedroom features invisible speakers by Sound Advance, further concealing the existence of this high-performance surround sound system. Much coordination with the architect, interior designer, and cabinet maker was necessary to accomplish such a beautifully integrated design. This residence was also controlled with a Crestron home automation system, allowing intuitive control of audio video sources, whole house music, climate, and Crestron's own lighting control system.
Says Eric Thies, CEO of DSI Entertainment Systems, "Although they are humble, I feel that we have the best technical team in the country. It's great to see everybody's passion and hard work get recognized by CEA TechHome in such a big way. We are truly grateful for the acknowledgement."
ABOUT THE CEA:
The Consumer Electronics Association (CEA) is the preeminent trade association promoting growth in the $165 billion U.S. consumer electronics industry. More than 2,000 companies enjoy the benefits of CEA membership, including legislative advocacy, market research, technical training and education, industry promotion, standards development and the fostering of business and strategic relationships. CEA also sponsors and manages the International Consumer Electronics Show - where Entertainment, Technology and Business Converge. All profits from CES are reinvested into CEA's industry services. Find CEA online at www(dot)CE(dot)org.
ABOUT DSI ENTERTAINMENT SYSTEMS:
DSI Entertainment Systems, headquartered in Los Angeles, California is a leading Electronic Systems Contractor, recognized for many award-winning home theater custom installations, media rooms, home automation systems, lighting control systems, and custom audio video solutions. This recognition includes CEA's 'TechHome Integrator of the Year' and 'Ultimate Home of the Year', Electronic House's 'Best Home of the Year' and 'Best Media Room', Creston's 'Best Integrated Home System', 'Most Creative User Interface', and 'Most Extreme Makeover', Robb Report magazine's 'Ultimate Screening Room', CE Pro's Top 100 Integrators and numerous CEDIA Electronic Lifestyles® Designer Awards. DSI Entertainment Systems recently expanded products and services to include gaming rooms and simulators, automated wine cellar management and advanced network design. The movers and shakers of the entertainment and business worlds look to DSI Entertainment Systems when integrating technology into their home or business. For the past 16 years, DSI has been delivering the best in screening rooms, audio/video systems, and control systems to their demanding, yet fiercely loyal, clientele. For up to date industry information, subscribe to their audio video and technology blog at blog(dot)dsientertainment(dot)com
# # #