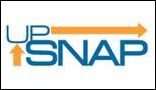 There is a huge F1 following in America and through UpSNAP's unique mobile audio service, race fans can listen to over 40 different Podcasts covering all aspects of the United States Grand Prix event, directly on their mobile phones
Davidson, NC (PRWEB) June 26, 2006
UpSNAP, Inc. (NASDAQ UPSN:OB), the premier provider of free mobile search and streaming mobile audio entertainment, today announced that it will be offering exclusive on-site Podcast programming from the United States Grand Prix at the Indianapolis Motor Speedway. The service will be available to all mobile phone users from June 27 through July 4, 2006 and will include reports from the paddock, driver and team interviews, race previews, and updates from all race parties and events.
"Formula 1 racing is one of the most popular sports on the planet, and the United States Grand Prix is the only U.S. race on the F1 schedule. Apart from being at the race, this is the broadest coverage that American Formula 1 fans can get on the race," said Tony Philipp, President and CEO of UpSNAP.
"There is a huge F1 following in America and through UpSNAP's unique mobile audio service, race fans can listen to over 40 different Podcasts covering all aspects of the United States Grand Prix event, directly on their mobile phones," said Brett Johnson, President of FormulaPod.com. "We can bring news, analysis, and interviews to any Formula 1 fan that has a mobile phone.
UpSNAP's premium race service is available beginning June 27 through July 4, 2006, and will provide over 40 Podcast updates during the course of the United States Grand Prix week in Indianapolis. To learn more and to sign up for the service, race fans can text message 'gp' to 27627 on their mobile phone or go to http://www.upsnap.com/race.php. UpSNAP's exclusive Formula 1 coverage is available for $4.99 and offers unlimited access to the entire week of great U.S. Grand Prix coverage.
About UpSNAP, Inc
UpSNAP, Inc. (NASDAQ: UPSN.OB) is the leader in mobile search and live mobile audio entertainment. With a rich library of branded multimedia content and true mobile search technology, UpSNAP effectively delivers compelling text and audio mobile content to consumers from major entertainment companies in sports, news, music, and information.
UpSNAP offers both branded and white-label services that can be licensed by wireless carriers, service providers, and content providers who wish to incorporate text and streaming audio capabilities into their existing product and service offerings. Visit http://www.upsnap.com for more information.
Media Contact:
Dean Shaw
UpSNAP, Inc.
Phone: 704-895-4121
Email: dshaw(at)upsnap.com
Brett Johnson
Formulapod.com
Email: podgen(at)gmail.com
# # #