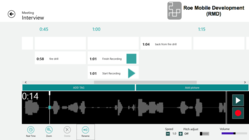 Rockville, MD (PRWEB) December 10, 2012
Roe Mobile Development's Smart Recorder product is now available in the Windows 8 app store. It is the first full-featured audio recorder app available in the Windows store.
Smart Recorder allows users to record meetings, class lectures, music rehearsals or even reminders and shopping lists. Smart Recorder utilizes tags to mark important points, and even includes an auto pause feature that automatically suspends the recording during periods of no sound.
"We are pleased to bring this great product to Windows 8," says Ken Roe, CEO of Roe Mobile Development. "We look forward to many exciting updates. The iOS Smart Recorder has been quite successful. It has been installed on over 700,000 devices, has over 50,000 active users and generates 1,000 downloads a day."
Roe Mobile Development's new audio recorder app features a ground up redesign of the user interface to take advantage of many of the unique features of Windows 8.
The share, search, and settings charms are supported. One can easily email or upload recordings to Sky Drive. The search charm allows one to quickly search through a large number of recordings based on keywords in either the title or one of the labels. The settings charm features a help tab that contains comprehensive documentation on all of Smart Recorder's features.
The screen layout has been carefully designed to follow the new Windows 8 look and feel. A main hub page shows a listing of all the sessions created by a user. These recordings can be sorted by name, size, or date created. They can also be divided into different categories. The session screen features a Windows 8 style grid view showing all recording start and stop times, labels, and pictures, as well as a waveform view under the grid showing audio levels throughout the recording. During play back, the time marker can be moved in the waveform window to select a particular point in the recorded time.
On screen pop-ups help first time users quickly learn how to use the basic functions of Smart Recorder. The audio recorder can play back recordings at different speeds, including two times the original recording speed, helping users skim over portions of the recording. The inclusion of pitch correction makes it easier to listen to the speech.
Smart Recorder was also recently featured in Devhammer's Den at http://www.devhammer.net.
About Roe Mobile Development
Roe Mobile Development LLC was founded in 2009 by Kenneth Roe. Kenneth Roe is a software engineer with over 20 years of development experience on many successful products. Roe Mobile Development markets apps for iOS, Windows 8, and the Mac. Smart Recorder is the most popular of the products, marketed on all three platforms. A variant, Smart Recorder DE is marketed for iOS. Smart Recorder DE has all of the features of Smart Recorder but also allows users to edit their recordings after they have been made. For more information, check out http://www.roemobiledevelopment.com.