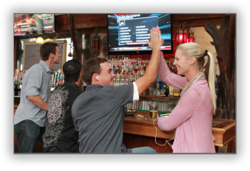 Sports fans will now be able to hear what they have been missing at their local Sports Bars.
Albuquerque, New Mexico (PRWEB) October 11, 2011
Durango, Colorado based Airborne Media Group, Inc.announced the introduction of its new Audioair "listening experience" at a special product demonstration event held Saturday, September 17, 2011 before hundreds of sports fans at two local sports bars/restaurants. The company claims that its technology provides a whole new entertainment and information distribution experience by enabling Smartphone owners to use their devices to select and privately listen in to television video displays that must have their audio muted because of high noise level considerations. The company's special Android Smartphone application is free to the public. It can be downloaded from the Android Marketplace via a WiFi connection at an Audioair™ equipped sports bar/restaurant casino, airport, athletic club, hospital or anywhere televisions are muted. With the use of an ear bud, blue tooth headset or by just holding the phone's speakers up to the ear the end-user may privately listen in to sports, news and information channels, and any other muted televised broadcast displayed on the selected television screen.
The Audioair™ "hubs" installed on a customer's premise are comprised of a WiFi system and the company's proprietary technology that streams the selected channel's digitized audio to Smartphones that have downloaded and installed the company's software application. The hubs are also served by the company's wide area and local area servers which offer up Facebook check-in, a proprietary chat application, customer advertising and coming in the first quarter 2012, interactive gaming, sports pools, sports trivia applications and streaming advertising.
Google Android OS Smart Phones Supported
Company Chief Executive Officer Cordell R. Brown disclosed that only Android OS smart phones are supported currently but that Apple, Inc.'s iPhone OS will be supported in the next quarter. The decision whether or not to support Research in Motion Company's Blackberry Smartphones and other Smartphones such as the Microsoft Corporation's Windows Phone 7 will be driven by the market's acceptance of these phones as each phone requires customized interfaces to Audioair™. Mr. Brown stated: "in addition to maximizing the value of a customer's heavy investment in a multimedia systems including in many cases the deployment of vast arrays of muted televisions, we believe our product has some wonderful surprises in store for advertisers as it could be one of the most effectively targeted mobile commerce platforms yet to emerge."
Sports Bar/Restaurant Market Targeted First
The greater Albuquerque/Santa Fe, New Mexico metropolitan market is the initial target market for Airborne's product roll-out. Again quoting Mr. Brown, "we have begun our sales effort in this carefully studied market and we are now ready for the hundreds of thousands of muted televisions in sports bars and restaurants worldwide and of course we are in talks with a number of casinos where vast arrays of televisions in sports book venues are muted for practical considerations". Brown added that "in our marketing studies we have also found other great applications such as our product's use by the hearing impaired".
http://www.airbornemediagroup.com/
http://www.audioair.net/
###