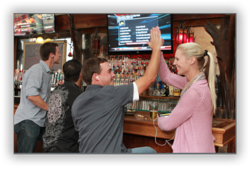 Especially since our participation in the South by Southwest Interactive in Austin, Texas last month, Audioair has generated tremendous customer interest and we're moving rapidly to fill orders
DALLAS, TEXAS (PRWEB) April 11, 2012
Durango, Colorado based Airborne Media Group, Inc.(AMG) announced today that Apple, Inc.'s App Store has approved its latest application version of Audioair. AMG has awaited this final development in preparation for the expansion of its test markets beyond the initial Albuquerque, New Mexico test market where the product was first rolled out in late 2011.
Audioair, the innovative new technology that permits Smartphone users to selectively listen to muted televisions in private and public locations, is now available for free download from the App Store. This application version specifically supports iPhone IOS5 and works on iPad and iPod Touch. It now joins the Android App which is also free for download from the Android Marketplace.
According to AMG Executive VP of Sales Glenn Young, "Especially since our participation in the South by Southwest Interactive in Austin, Texas last month, Audioair has generated tremendous customer interest and we're moving rapidly to fill orders in a number of new test markets including the I-35 corridor from the Dallas, Texas/Fort Worth area down to Austin and San Antonio and the Las Vegas, Nevada market where Audioair holds great promise for real time betting applications and the reinvention of the traditional Sports Book".
Mr. Young added, "We are also excited about our new distribution partnership with Seva Enertainment, Inc. of Fort Lauderdale, Florida which is preparing a major sales and marketing push along the lower Atlantic Seaboard and into Georgia where it currently services over 5,000 customers with hundreds of thousands of muted televisions."
Audioair requires the installation of its system on customer premises and the current market effort is intended to add thousands of installations in such diverse locations as sports bars and restaurants, airports, casinos and stadiums among others.
Mr. Young also provided more insight into AMG's go-to-market plans saying, "We have commenced development for the Windows Phone platform, and with its completion we are prepared to launch a national and international sales and marketing push late this year-- even as we are now also moving to support isolated prime customers in other major markets who have approached us for system installs."
########
Airborne Media Group, Inc. is a privately held corporation founded in 2010. Its newly invented technology is designed to deliver an entirely new entertainment, news and information distribution experience by permitting the users of mobile devices to privately listen to televisions in all types of venues where they must be muted for noise considerations. The new technology has also spawned a number of other valued added applications centering on new interactive m-commerce strategies. The company has created and continues to expand a team of strategic and technical partners to further develop its technology, and to achieve its ambitious sales and marketing goals.
Airborne Media Group and audioair™ are trademarks of Airborne Media Group, Inc. in the United States and/or other countries.
The names of actual companies and products mentioned herein may be the trademarks of their respective owners.
For more information, press only:
(Daries "Chip" Lile, Executive Vice President),
(970.749.2785), (chip(at)airbornemediagroup.com)
For more information on Airborne Media Group, Inc.:
http://www.airbornemediagroup.com/
http://www.audioair.net/