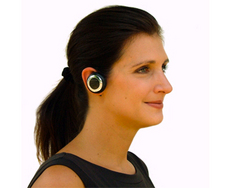 A book on your ear is worth three on the shelf.
Lindale, TX (PRWEB) August 5, 2008
"A book on your ear is worth three on the shelf." That's the theory behind the latest iteration of the digital audio player. Inspired by the convenience of the Bluetooth cellphone headset, Texas company Lascelles, LLC has put both the book and audio player into a small, self-contained earpiece known as the Ear Bible. Initial implementation of the device is targeted for people who want to know God's Word better for themselves. The driving force behind the Ear Bible is that faith comes from hearing and hearing from God's Word.
Inventor and company president Chris Lascelles says, "It's all about freedom and multitasking. When waiting in line or doing the grocery shopping, people will now be able to listen to the Bible
while doing these routine activities. One ear will listen to the audio bible, while the other remains available to interact with your environment. If your phone rings or someone asks you a question, the person can simply press pause to attend to the situation. All this without cords or earbuds to deal with."
The Ear Bible has a mini-USB connection that allows users to transfer additional or alternative files onto the player via a USB cable connected to a computer. This connection also charges the battery. A small screen enables navigation of the audio content. The audio format used by the player is the open source Speex format, ideal for compressing and playing back audio books.
Lascelles has led the product development team, which has drawn together expertise from Germany, South Africa, China, and the USA. Production of the Ear Bible is based in South Africa, with components sourced mostly from Asia. Lascelles, LLC is now accepting pre-orders
for the Ear Bible online at the Ear Bible website. Distribution is direct from their Texas warehouse.
For additional information on the Ear Bible, visit earbible.com.
About Lascelles, LLC:
Lascelles, LLC is a Texas Limited Liability Company founded in 2006 to bring the Ear Bible product to market.
Contact:
Chris Lascelles
Lascelles, LLC
903-520-7282
earbible.com
###