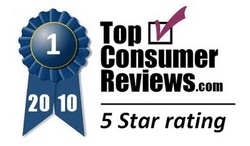 We're thrilled to receive TopConsumerReviews.com's highest rating
Overland Park, KS (Vocus) July 14, 2010
TopConsumerReviews.com recently awarded their highest five-star rating to Simply Audiobooks, a market leader in Audiobook Stores.
"We're thrilled to receive TopConsumerReviews.com's highest rating," said Lee Chesworth, CEO of Simply Audiobooks. "Our goal is to provide book lovers with simple and affordable ways to enjoy the books they want to read, regardless of their busy lifestyle, financial constraints, or level of tech savviness. This recognition from TopConsumerReviews is especially gratifying because it shows that we truly are achieving what we set out to do, which is provide consumers with the best service and selection possible."
Audiobooks were once considered a costly luxury. Today, however, consumers have found that audiobooks are an excellent way to be entertained while you're on the road, on a lunch break, or listening quietly with your children – and often at a fraction of the price of traditional books. Ipods and MP3 players have become a common device in most homes, and with improvements in technology and functionality, listening to audiobooks with these players is simple and low cost.
"Simply Audiobooks appeals to all sectors of people in that they offer so many options for rental and purchase," explained Brian Dolezal, of TopConsumerReviews.com. "This site is absolutely wonderful for people of all technology levels – from the novice to the expert. They provide a variety of audiobook formats, including MP3, CD or even cassette tapes. Any person can use this website to search for an audiobook and be fully satisfied with their experience."
To find out more about Simply Audiobooks and other Audiobook providers, including reviews and comparison rankings, please visit the Audiobooks category of TopConsumerReviews.com at http://www.topconsumerreviews.com/audiobooks.
About Simply Audiobooks
Simply Audiobooks is North America's top audio book source, offering the most comprehensive range of online services with unlimited rentals, sales and direct downloads. Launched in 2003, the company offers the world's largest audio book rental program. it was the first to provide an unlimited rental model for audio books on CD, with free direct-to-door delivery and no due dates or late fees. Simply Audiobooks now offers direct downloads in MP3 and encrypted WMA files. The company has offices in Toronto, ON, Buffalo, NY, and Las Vegas, NV.
About TopConsumerReviews.com
TopConsumerReviews.com is a leading provider of independent reviews and rankings of hundreds of consumer products and services. From hair loss treaments and teeth whiteners, to credit repair and business debt management, TopConsumerReviews.com delivers in-depth product evaluations in order to make your purchasing decision easier.
# # #