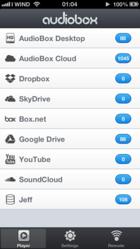 Brooklyn, NY (PRWEB) February 04, 2013
iCoreTech, Inc. has announced the release of its AudioBox™ iPhone® application – a sleek, Retina®-ready counterpart to the AudioBox.fm cloud-based media platform. The AudioBox iPhone app, available now on the iTunes Store worldwide, lets users stream their media collections from anywhere, with no gaps between files and no limits on data.
AudioBox is one of the first cloud applications to allow users to store and manage an unlimited capacity of media files from multiple cloud storage providers and gaplessly stream them through a single web-based interface. With the new iPhone app, Audiobox's highly user-friendly interface and flexible functionality translate flawlessly to iOS 6 as a native iPhone app.
The app allows the users to securely access media files in the cloud, so their entire media collection goes with them anywhere, not matter how extensive it is or where it's stored. This includes any compatible media stored on your home computer (PC, Mac or Linux) or connected external hard drive, using free AudioBox Desktop software, as well as files that have been uploaded to the AudioBox Cloud.
Access to files on third-party cloud storage services is just as easy. To date, a growing list of compatible cloud services includes DropBox, Google Drive, SkyDrive, and Box.com. Users can also stream from a SoundCloud account or YouTube channel, bringing all of their functionality to a single mobile platform.
The AudioBox iPhone app also offers full support for smart playlists, letting users manage smart playlists using files that are stored with different cloud services, as well as files from their local computer or external hard drive. The playlists can be set as "Offline," so users can stream when they're not connected – on a plane, for example, or during an outage.
Features include:

Retina®- and HD-ready, with pixel-perfect design
AirPlay™-ready
Background streaming with automatic pause/restart during calls
Album cover art and track info display when device is locked
Native now playing info center enabled
iOS controls work locally and remotely, e.g. on a car stereo
Pre-buffering and pre-caching for gapless streaming
Off-line playlist support
Lyrics integration
Artwork support
Playlists grouped by album
Shareable track information
Ability to mix audio channels with other applications
In addition to the enhanced accessibility of iCoreTech's Unified Library™ technology, which enables access to unlimited files regardless of where they're stored, the AudioBox iPhone app includes other key features from the AudioBox desktop version. Display options include a robust social sharing functionality that creates detailed "Now Playing" notifications shareable on Facebook, Twitter, Google+ and Twitch.tv, that includes artists information from Last.fm, videos from YouTube, concert listings from SongKick, lyrics from musiXmatch and a real time Twitter feed.
For more information, visit http://audiobox.fm.
About iCoreTech, Inc.
iCoreTech was born in Italy in 2009 when visionary developer Claudio Poli partnered with Fabio Tunno and Valerio Chiodino, two colleagues who shared his passion for turning smart ideas into technical realities. As the creativity started flowing, they found that they needed a secure way to store all of their files without choking their operating systems. So they developed a solution: a simple cloud-based locker. It worked so well, they shared it with their friends. These friends shared it with their friends until it grew organically into AudioBox, an application enjoyed by 15,000 users. The team decided to share it with the world. Joined by New York-based management expert Simone Tarantino, they proceeded to gather user feedback, enhance and fine-tune AudioBox until it was ready for its public debut in 2012.
iCoreTech is now also licensing the platform to major players including ISPs, online music retailers, telecom companies and manufacturers, in USA, Europe and Japan.
© 2009-2013 iCoreTech, Inc. - AudioBox, Unified Library and the AudioBox logo are trademarks of iCoreTech, Inc.
All other trademarks are the property of their respective owners.