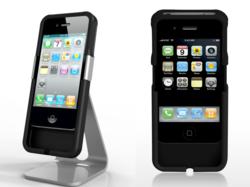 Portland, OR (PRWEB) August 15, 2012
An innovative new iPhone case made for improved gaming audio has been introduced on the Kickstarter.com crowdfunding website. The AudioGlove iPhone case is a polycarbonate protective case that uses patented Natural Sound Amplification™ technology to dramatically increase the iPhone's volume – by 20% – and improve the performance of its microphone.
The AudioGlove solves the problem with the iPhone that all mobile game players have had to tolerate – they want to be able to use their devices to play games and video, but the speakerphone volume and microphone reception is just too low, especially when there's background noise present.
The AudioGlove's waveguide chamber slides open to amplify and redirect the iPhone's sound waves coming both out of its speaker and into its microphone. Now, with the AudioGlove, gamers don't have to tolerate poor audio quality and they can truly take their gaming with them anywhere.
Falco Freeman, a Portland entrepreneur, invented the AudioGlove. "I was always frustrated with the iPhone speakerphone," says Freeman. "The speaker just wasn't loud enough if there was any background noise at all. I knew I would have a better user experience with my iPhone if I could just improve the sound quality – and mobile gaming is certainly a great example!"
The AudioGlove alone will retail for $35, but as part of the Kickstarter campaign, backers will receive a case for pledges as low as $20. There is a sliding scale of rewards for pledge amounts – for the full campaign details and video, click here.
"I think we have a game-changing product in the AudioGlove. But it's tough for the 'little guy' to get a foothold in the market. That's why we think this is a perfect Kickstarter project for gamers, where you have people who are passionate about good design, the performance of their gadgets, and want to support small businesses with good ideas."
The campaign funding goal is to reach $30,000 by September 3rd; if successful, the proceeds will be used to defray the cost of the die-cast mold and final production of the matching AudioGlove solid aluminum stand, as well as the manufacturing cost of new cases.