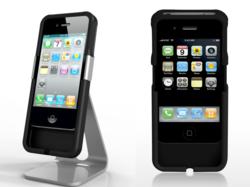 PORTLAND, OR (PRWEB) August 15, 2012
A unique new iPhone case perfect for teens has been introduced on the Kickstarter.com crowdfunding website. The AudioGlove iPhone case is a stylish polycarbonate protective case that uses patented Natural Sound Amplification™ technology to dramatically increase the iPhone's volume – by 20% – and improve the performance of its microphone.
The AudioGlove's waveguide chamber slides open to amplify and redirect the iPhone's sound waves coming both out of its speaker and into its microphone. Now, with the AudioGlove, teen iPhone users can use their device to truly share their music, video and games anywhere – at a party, the mall or the park – without having to sacrifice audio quality. And it doesn't drain the battery or require any headphones, cords or docks.
Falco Freeman, a Portland entrepreneur, invented the AudioGlove. "I was always frustrated with the iPhone speakerphone," says Freeman. "The speaker just wasn't loud enough if there was any background noise at all. I knew I could create a better user experience with the iPhone – and, with the way teens want to use and personalize their iPhones, the AudioGlove is perfect for them!"
The AudioGlove alone will retail for $35, but as part of the Kickstarter campaign, backers will receive a case for pledges as low as $20. The sleek case comes in black, white, pink, purple, green, and yellow. Because it is in two parts, consumers can customize their case by mixing and matching color combinations. For the full campaign details and video, click here.
"I think we have a game-changing product in the AudioGlove. But it's tough for the 'little guy' to get a foothold in the market. That's why we think this is a perfect Kickstarter project, where you have people who are passionate about good design, the performance of their gadgets, and want to support cool products."
The campaign funding goal is to reach $30,000 by September 3rd; if successful, the proceeds will be used to defray the cost of the die-cast mold and final production of the matching AudioGlove solid aluminum stand, as well as the manufacturing cost of new cases.