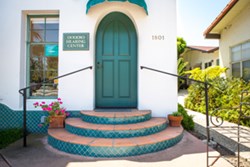 Santa Barbara, CA (PRWEB) December 31, 2013
In addition to introducing new models of existing hearing aid styles every year, hearing aid manufacturers sometime craft entirely new styles of hearing aids. The Open Fit hearing aid is a relatively new style that is gaining in popularity because is has several distinct advantages over other styles. To educate hearing aid users in Santa Barbara about this new option, the Audiologists at Dodero Hearing Center in have published a comparison article online at Open Fit Hearing Aids – Analyzing the Pros and Cons. Open fit hearing aids share many similarities with behind-the-ear (BTE) devices with a few key distinctions. Dr. David Dodero's analysis focuses on the following pluses and minuses.
1. The case and the tube on the open fit hearing aids are substantially smaller than on behind-the-ear hearing aids.
2. Open fit hearing aids is that it keeps the ear ventilated and allow low frequency sounds are able to enter the ear without being amplified.
3. Open fit hearing aids provide a more natural experience for people with mild to moderate hearing loss.
4. The smaller size of the open fit hearing aid makes them easier to disguise as compared to behind-the-ear devices.
5. Individuals with severe hearing loss are not good candidates for the open fit hearing aids. The levels of amplification needed for users with major hearing loss often lead to feedback noise due to the device's openness.
6. People who have difficulty with fine motor skills may find it difficult to operate and maintain.
Local residents are encouraged to contact Dodero Hearing Center to ask further questions about open fit hearing aids in Santa Barbara and arrange for a demonstration or trial.
About Dr. David Dodero
Dr. David Dodero has been providing quality hearing health care services to the Santa Barbara community since 1977. He received his BA degree in Speech & Hearing at UC Santa Barbara in 1975, his Master's degree in Audiology at CSU Los Angeles in 1976, and his Doctorate degree in Audiology at Arizona School of Health Sciences in 2004. From 1977-1992 he held the position of clinical audiologist at the prestigious Sansum Clinic in Santa Barbara. In 1992, he opened Dodero Hearing Center to offer comprehensive diagnostic hearing assessments and the most advanced hearing technologies. Dr. Dodero believes in giving back to the community by offering free hearing screenings, educational classes at retirement facilities, and educational Lunch & Learn seminars that teach skills for the hearing-impaired person to better communicate with others.
About Dodero Hearing Center
Dodero Hearing Center is a full service Audiology clinic providing the most comprehensive hearing care available including hearing protection, diagnostic hearing loss testing and the fitting of hearing aids in Santa Barbara. Dodero Hearing Center uses the most advanced hearing technologies available and takes pride in the fact that as the field of hearing aid technology changes they change with it. Dodero Hearing Center is a multi-line dispensing audiology practice offering quality hearing instruments from many of the top manufacturers including Oticon, Phonak, Sonic Innovations and Widex. Dodero Hearing Center will ensure your hearing aids fit comfortably, work properly, and give you the maximum hearing enhancement available.
Contact:
Dr. David Dodero
http://doderohearing.com
Dodero Hearing Center
1801 State Street, Ste A
Santa Barbara, CA 93101
(805)-284-0889