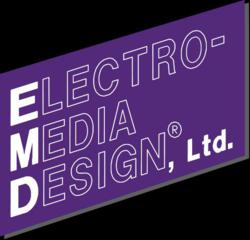 We're looking forward to setting international standards for business and social meetings.
(PRWEB) September 18, 2012
The International leaders in audiovisual technology at Electro-Media Design, Ltd. (EMD) have formed a partnership with ITC Hotels that will result in unparalleled guest experiences. Due to the customized needs of each property, EMD's work with ITC Hotels will encompass all four of their high quality lines of service in AV Design, AV Operations, and Acoustics.
Existing ITC properties will be upgraded to the same exacting standards as the new hotels the two companies will build together. ITC Hotels' luxurious facilities are an ideal match for EMD's extensive knowledge in creating the best audiovisual experiences, designed to surpass any guest's expectations.
"We're looking forward to setting international standards for business and social meetings," says Jeff Loether, president and CEO of Electro-Media Design, Ltd. "Hotel properties, such as ITC Hotels, have amazing potential to leave a lasting impression on their guests in ways they were never expecting. In some cases, we'll be working together from pre-build stages of property development. This will give us a chance to demonstrate that there is a synergy between ITC's aspirations and EMD's know-how in this win-win engagement."
The first project to come from this joint venture is well underway at India's exotic hotel, the Grand Chola. Nestled along the coast in Chennai, this hotel will be the first site of EMD's exciting new entertainment and presentation technologies. The new five-star luxury hotel boasts a top-of-the-line Business Theater where EMD will perfect the existing acoustics, and make suggestions for achieving the best audio experience possible.
From project consulting before the blueprints are drawn to finding just the right key staff hires, EMD will take each project with ITC Hotels on a case by case basis, making sure all of their needs are met and expectations are exceeded. The audiovisual experts at Electro-Media Design look forward to working with ITC Hotels as a structural host for their next generation "Applied ArchiTechnology," which melds the technical support of a room's sights and sounds with its infrastructure in mind-blowing ways.
About Electro-Media Design
As independent consultants specializing in architectural acoustics and audiovisual system design, we provide comprehensive consultation and design services in audiovisual technology and operations. As your resource, we will bring exceptional practical experience in design, procurement and operations to your project. Learn more at http://www.electro-media.com.