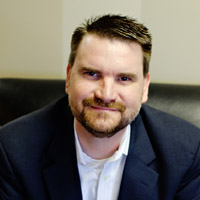 Richmond, VA (PRWEB) February 01, 2012
Whitlock, a global AV solutions provider, is proud to announce the promotion of John Bailey to the position of Vice President of Systems Integration. John formerly served as the company's National Director of Systems Integration, and has been with Whitlock for more than twelve years.
"John has provided technical leadership and driven many new initiatives within Whitlock that have added greatly to our success and growth," states Doug Hall, CEO. "He has served as a trusted advisor to the Whitlock executive team, and to the industry at large, especially in the areas of quality control and standards."
With more than twenty years of experience in the audiovisual industry, John was one of the first in the AV industry to attain both the CTS-I and CTS-D certifications from InfoComm. He also has extensive training from leading AV and digital media manufacturers, and has served on several manufacturer advisory boards as a resource for new product design and development.
"John has also been an integral part in developing partnerships and providing guidance to our top enterprise clients, both nationally and internationally," states Roger Patrick, Whitlock's COO. "Recognized as one of the industry's best by peers, consultants and manufacturers, John has a great mix of technical, client and leadership skills that make him uniquely qualified for this expanded role with Whitlock."
In his new position, John will further refine the company's best practices and standards for technology design, project management, quality control and global delivery. He is highly involved in Whitlock's Global Presence Alliance (GPA), and serves as the current Chair of the Operations Committee for this organization. Based in Durham, NC, John will continue his heavy involvement in the company's expansion across the Carolinas.
***
Whitlock is a global leader in AV integration, videoconferencing solutions and managed services. The company helps clients maximize, standardize and protect the value of their audiovisual technology investments. Whitlock has over 25 locations across the U.S. and is a founder and partner in the Global Presence Alliance, which provides systems integration, standards, quality control and support for audiovisual services worldwide
###