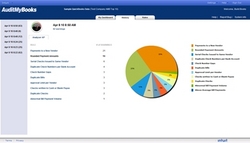 Alex Chriss of Intuit says, "AuditMyBooks represents a compelling solution for small business owners concerned about errors & fraud, and a great opportunity for ProAdvisors to grow their own businesses."
Atlanta, GA (PRWEB) June 23, 2010
AuditMyBooks™, the creators of products that help small businesses protect their money by detecting errors and fraud, today announced the release of Analyzer AP™, a new software application that helps small businesses scan 100 percent of their accounting transactions to detect cases of errors, theft and fraud. According to the Association of Certified Fraud Examiners (ACFE), companies with less than 100 employees represent more than 30 percent of all fraud cases in the United States. ACFE research shows that small and medium-sized businesses suffer the highest median losses of any sized company at nearly $150,000 per occurrence.
Even when the possibility of fraud is remote, accounting errors can still be a potential problem for small and medium-sized businesses. Accounting experts claim the majority of errors result from simple bookkeeping mistakes or misapplication of easily understood accounting standards.
Drawing from techniques successfully used to detect information security threats such as viruses and spyware, AuditMyBooks products perform an analysis of accounting transaction records and generate customized reports targeting questionable transactions. Small and medium-sized business owners who are users of AuditMyBooks products are then able to ensure that their financial data is reliable for decision-making and reporting.
AuditMyBooks is easy to use, requires no software to download and is secured and hosted on the Intuit App Center to assure reliability and availability.
"When the owners of small and medium-sized businesses are the victims of financial fraud it can be truly devastating and many never recover," said C.P. Morey, vice president of product management for AuditMyBooks. "I started my career as a Certified Public Accountant and I've witnessed this firsthand. The victim pays a high price because their trust was violated, they're embarrassed because they did not know it was happening and then they learn the money was spent on gambling or drugs. Analyzer AP from AuditMyBooks can stop them from becoming yet another statistic."
Industry experts have stated that small businesses are frequently the victims of errors and fraud because they typically have single-person accounting teams and limited internal controls. Techniques such as separation of duties and continuous controls monitoring, while well-suited for large organizations, are simply too costly and complex for most small businesses.
Sanjeev Aggarwal, founder and partner of SMB Group, Inc., a market research and analysis group focused on small businesses, said "The reason we like AuditMyBooks is that a lot of small businesses face the problem of accounting errors and fraud, yet until now there have not been products in the market that solve this problem in a cost-effective way. We look at small business users every day and know what they need, and they will benefit from using Analyzer AP from AuditMyBooks."
"The current economic crisis has resulted in an increase in the number of fraud cases as cash-strapped employees resort to theft as a means of supporting overextended lifestyles," stated C.P. Morey of AuditMyBooks. Seizing upon this situation, nearly 70 percent of CPA firms recently polled by the American Institute of Certified Public Accountants stated they are working to grow their forensic practices. AuditMyBooks products enable accounting practitioners to expand their services while offering clients protection from a problem facing millions of small businesses.
With special pricing available for CPA's, Intuit Solution Providers and ProAdvisors, Analyzer AP from AuditMyBooks can be used regularly to analyze every accounting transaction in a matter of minutes much like security software that detects viruses and spyware. The sooner these irregularities are discovered, the sooner corrective action can be taken, ultimately helping accounting practitioners and their clients focus on business success and growth.
Analyzer AP from AuditMyBooks is now available in the Intuit App Center, which provides small businesses with one place to find and use Web applications that truly work together. Alex Chriss, director, Intuit Partner Platform said, "We're excited to see another great app in the App Center. Products like AuditMyBooks represent a compelling solution for small business owners concerned about errors and fraud, as well as a great opportunity for ProAdvisors to grow their own business while improving their position as a 'trusted advisor' to their clients."
About AuditMyBooks
AuditMyBooks™ is a business-to-business subscription software company that automatically analyzes small and medium-sized business accounting records to detect cases of errors, theft and fraud. Designed to work with QuickBooks, the #1 small business financial software application in the United States, AuditMyBooks™ products are available in the Intuit App Center. AuditMyBooks™ is led by a team with extensive experience in financial auditing, accounting systems and information security. They saw a market need for a cost effective and easy-to-use solution that helps small businesses identify suspect financial transactions to proactively reduce business risk. Drawing from techniques successfully used to detect information security threats such as viruses and spyware, AuditMyBooks™ helps small businesses protect their financial resources and ensure their financial data is reliable for decision-making and reporting. Based in Atlanta, AuditMyBooks™ has been recognized as one of the Top 40 Most Innovative Companies by the Technology Association of Georgia.
The AuditMyBooks™ name and trademark are exclusively licensed to AuditMyBooks, LLC. All other products or company names mentioned are used for identification purposes only, and may be trademarks of their respective owners.
Intuit, the Intuit logo, and QuickBooks, among others, are registered trademarks and/or registered service marks of Intuit Inc. in the United States and other countries.
# # #