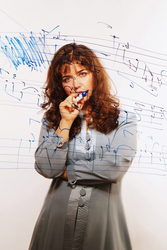 and it certainly does not flow in one direction. According to the laws of any well-structured composition, be it a poem, a symphony, an architectural work, or a human life, the beginning apriori encompasses the end, and the end already contains the beginning.
New York, NY (PRWEB) July 6, 2009
This Summer there will be no mistaking that Lera Auerbach is in demand as one of the most compelling and widely performed composers of her generation when she is featured at three of the world's most prestigious classical music festivals all during the month of July. The Verbier Festival in Switzerland has commissioned a new work from Auerbach to commemorate its 2009 season, and both the Pacific Music Festival in Japan and West Cork Chamber Music Festival in Ireland will present composer portraits of the Russian composer. She is also a featured poet and lecturer at the West Cork Literary Festival.
Only in her 30's, composer Lera Auerbach is the youngest artist on the roster of Hamburg's prestigious international music publishing company Sikorski, home to legends like Prokofiev, Shostakovich and Schnittke. Also a virtuoso concert pianist and Pushkin Prize winning poet, she defies categorization through a wide spectrum of musical and literary outlets including orchestral music, ballet, chamber music, choral works, stage play, and opera.
Her new ballet, "The Little Mermaid," commissioned by the Royal Danish Ballet and the Hamburg State Ballet, and choreographed by John Neumeier, will receive its American premiere in 2010 by the San Francisco Ballet. She is currently writing a full length opera based on her original play "Gogol" for Vienna's historic Theater an der Wien for premiere in 2011.
Ms Auerbach's literary works include five volumes of poetry and prose which are already required reading for modern literature courses in Russia. In 2007, Auerbach was named a "Young Global Leader" by the World Economic Forum. She currently lives in New York City.
On July 17 the Tokyo String Quartet and Sapporo Symphony Orchestra (conducted by Ken Takaseki) join forces to perform Lera Auerbach's "Fragile Solitudes" for String Quartet and Chamber Orchestra during the 20th Anniversary season of the Pacific Music Festival. Founded by composer/pianist Leonard Bernstein, the Festival celebrates Ms. Auerbach's residency with an exploratory chamber music concert called "Pacific Soundings II -The World of Lera Auerbach" on July 22. The program includes her Sonata for Cello and Piano No. 1, Op. 69; String Quartet No. 3 "Cetera Desunt"; a Trio for Violin, Cello and Piano, Op. 28; and selections from her Twenty-Four preludes for Piano, Op. 41, inspired by the music of Shostakovich. During her residency Ms. Auerbach will teach a course for young composers of Asian nationality. She will be joined at PMF by Michael Tilson Thomas, Christoph Eschenbach, and Andre Watts.
The prestigious Verbier Festival in Switzerland, one of the most lauded music festivals in the world, has commissioned a new violin and piano sonata from Auerbach, titled "Job's Lament." The work will be premiered by Ms. Auerbach and acclaimed violinist and conductor Dmitry Sitkovetsky on July 26 in Eglise Hall. On July 28, Verbier also presents a composer's portrait of Lera Auerbach which includes the music of fellow countryman Serge Prokofiev.
During her residency with the West Cork Chamber Music Festival from July 1-5, Lera will perform her own Twenty-Four Preludes, and Piano Trio, as well Mussorgsky's masterpiece "Pictures at an Exhibition." The RTÉ Vanbrugh Quartet will give the Irish premiere of her third string quartet, "Cetera desunt." At the neighboring West Cork Literary Festival on July 6, Ms. Auerbach will give a seminar titled "Dialogue with Time," a line taken from one of her poems, and her chief fascination.
"Time is not a river," says Auerbach, in an interview with Helmut Peters for Dresdener Philharmonische Blätter, "and it certainly does not flow in one direction. According to the laws of any well-structured composition, be it a poem, a symphony, an architectural work, or a human life, the beginning apriori encompasses the end, and the end already contains the beginning."
In seasons past Ms. Auerbach has been Artist-in-Residence with Deutschelandfunk (German National Radio) and at the International Johannes Brahms Foundation in Baden-Baden. Her music has been commissioned and performed by the leading international Music Festivals including Caramoor, Lucerne, and Lockenhaus in Austria, which has premiered twelve of her works. She was Composer-in-Residence at the Bremen Music Festival, Les Muséiques Festival in Basel, with the Orchestra Ensemble Kanasawa in Japan, and at the Schleswig-Holstein Music Festival in Germany where she was awarded the prestigious Hindemith Prize. In 2011 she will be composer-in-residence with the world famous Dresden Staatskapelle Orchestra and the Semper Opera of Dresden.
Auerbach's compositions have been commissioned by the Royal Danish and Hamburg Ballets, Gidon Kremer for the Kremerata Baltica, the Düsseldorf Symphony, SWR and NDR (Hannover) Symphonies, the American Youth Symphony in Los Angeles, for the Borromeo, Tokyo, Kuss, and Petersen String Quartets, and by accalimed artists David Finckel and Wu Han, Vadim Gluzman, Philippe Quint, and Alisa Weilerstein.
Following in the tradition of pianist-composers of the 19th and 20th centuries, Lera Auerbach often performs her own work and has appeared at the Bolshoi Saal in Russia, Tokyo's Opera City, New York's Lincoln Center, Oslo's Konzerthaus, Chicago's Symphony Hall and Washington's Kennedy Center. She made her Carnegie Hall debut in May 2002 performing her own Suite for Violin, Piano and Orchestra with Gidon Kremer and the Kremerata Baltica, and has had her music presented there every season since.
###