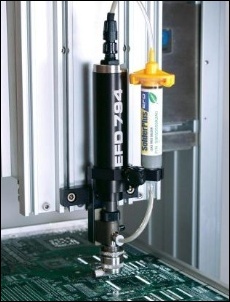 The system is designed to make precise, repeatable deposits of particle-filled materials, solder pastes, silver epoxies and thermal greases
EAST PROVIDENCE, R.I. (PRWEB) March 8, 2007
Auger Valves are available in:
-- Brush and brushless motor configurations
-- Fixed head version for lines and stripes
-- Sliding head / footed tip assemblies to compensate for surface planarity irregularities and provide consistent dispense gap height for micro-deposits
-- Micro-adjust foot usable with disposable tips. Adjustable for both standoff height and foot position.
-- 8-pitch and 16-pitch auger assemblies
Additionally:
-- ValveMate(TM) Controller that regulates the feed pressure, dispense time and auger speed
-- Ultra(R) Dispensing Tip Kit for maximum fluid control
-- Optional Ultra(R) TT, XYZ Dispensing Robot is available as a tabletop solution
-- EFD's SolderPlus(R) pre-filled solder syringe barrels or cartridges.
By combining screw-feed principles with precise time and dispensing controls, the auger valve system provides accurate, repeatable deposits of thick, particle filled fluids. Additionally, the system offers precise control of very small deposits with the use of a sliding head for machine over-travel and micro-adjustable gap control featuring a contacting foot.
The Auger Valves are designed to be used with the ValveMate Controller (for brush style motors only) or the Ultra TT Dispensing Robot (for all auger series valve control). During operation, air pressure is applied to the syringe and the particle-filled fluid moves into the path of the auger. As the auger rotates the material moves along the threads and out to the dispensing tips. The ValveMate Controller regulates the feed pressure so that there is enough pressure to keep the valve primed with material without forcing it past the auger while controlling the dispense time and the auger speed.
"The system is designed to make precise, repeatable deposits of particle-filled materials, solder pastes, silver epoxies and thermal greases," states Peter Lambert, President of EFD. "The fast, tool-free release of wetted fluid path components, combined with the adjustable foot design makes this a unique and user friendly system."
EFD's new Auger Valve System is available through their worldwide network operating in over 30 countries. For more information, contact EFD at 800-556-3484, +1-401-434-1680 or visit http://www.efd-inc.com
EFD, Inc. is a wholly owned subsidiary of Nordson Corporation, (NASDAQ:NDSN) the world's leading producer of precision dispensing equipment. Nordson and EFD systems apply adhesives, sealants and other assembly fluids to a broad range of consumer and industrial products during manufacturing operations, helping customers meet quality and productivity targets.
Except for historical information and comparisons contained herein, statements included in this release may constitute "forward-looking statements," as defined by The Private Securities Litigation Reform Act of 1995. These statements involve a number of risks, uncertainties and other factors, as discussed in the company's filings with the Securities and Exchange Commission that could cause actual results to differ.