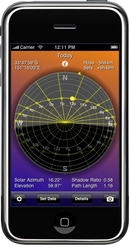 Sydney, Australia (PRWEB) October 21, 2009
Until now, real estate buyers have been in the dark about the annual sun and light exposure of houses or apartments they may be thinking of buying. When viewing property on a cloudy or rainy day, or even at night, there is little chance of knowing just how much or how little sunlight will enter different rooms at different times of the day, let alone for the entire year, and often it is only after buying and actually living in a new house for a year that the buyer truly knows whether they have found a year-round sunlight winner, or perhaps instead a dark and dull dud.
However, using the newly released Sun Seeker iPhone app, it is possible to see exactly what path the sun will take - either today or for any day of the year - simply by holding up the phone and aiming its camera in any desired direction. This makes it very easy to see the range of directions in which the sun will rise and set during the year, and equally to see what part of the sun's path and during which hours it will shine though various windows of a house, for example.
This app falls neatly into the category of "augmented reality", which is a way in which technology can be used to enhance our real life senses by providing us with additional useful information, linked to our precise location and context. Typically this involves showing information overlaid onto the phone's camera view, giving users insight into and awareness of things in their surroundings that they couldn't know about from ordinary eyesight, alone.
Some of the latest smartphones, such as the iPhone 3GS, now have a range of state-of-the-art location technology built in, including GPS, accelerometers and digital compasses, which have finally made augmented reality accessible to the general public - and it's arrival has caused something of a buzz in the mobile industry, and a sense of anticipation while mobile users await the arrival of a new generation of mobile apps which leverage this new technology in interesting and useful ways. The first wave of such apps is now arriving in Apple's iTunes app store, and the Sun Seeker app is one which may prove particularly valuable for some.
This app is also useful for landscapers and gardeners, as it can help in deciding where to plant different types of trees, shrubs or flowers, given their particular sun exposure requirements. Of course anyone thinking about installing solar panels would find this very helpful in ensuring they have a maximally exposed site. And even photographers may find it useful for deciding exactly when to take their photos for best light exposure and shadow length.
Sun Seeker was developed by independent iPhone app developer Dr Graham Dawson, who had the idea for this app while looking for real estate himself, in Sydney, Australia. His background in physics and astronomy proved valuable in helping him to address the geometrical challenge of rendering the sun's path onto the iPhone screen to match the changing orientations in which the iPhone may be held.
Graham is just about to move into his new apartment, which he says will have plenty of direct morning sun, and good reflected light throughout the rest of the day. His real estate agent bought an iPhone after Graham demonstrated the app to him while it was still being developed.
The app costs US$2.99 and is available from Apple's iTunes app store, for iPhone 3GS models.
More About Graham Dawson:
Graham has a degree in physics and meteorology, and a Ph.D. in dynamical coastal oceanography, and says he loves developing applications which leverage the latest technologies in genuinely useful ways. He has already had significant success in the Apple app store with his Oz Weather app - being one of the most enduringly popular iPhone apps in Australia, and was the top paid app there for several weeks. It has a carefully crafted interface that impressed an Apple product marketing manager enough to say that she'd "seen nothing as good yet for the US, even". Graham is now working on further novel types of augmented reality applications.
###