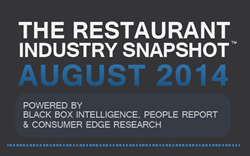 "Positive same-store sales growth was pervasive throughout the entire country and not just reported in some regions. Each of the 11 regions we track posted positive same-store sales growth in August for the first time in over two years"
Dallas, Texas (PRWEB) September 05, 2014
The restaurant industry significantly accelerated its sales growth in August. Same-store sales growth was 2.1% in August, a very robust 1.6% improvement from the growth rate reported for July. It was the best month for the industry in terms of sales growth since February of 2012. With these latest results, the industry seems poised to achieve two consecutive quarters of positive growth for the first time since the second half of 2012. This insight is based on data reported by TDn2K's Black Box Intelligence and People Report through The Restaurant Industry Snapshot for August, released this week.
"These latest results are very encouraging for the industry and beat our expectations for the month," said Victor Fernandez, Director of Insights and Knowledge for TDn2K, parent company of Black Box Intelligence and People Report. "To put this into perspective, the last time year-over-year same-store sales jumped by over 1.0% from one month to the next was from February to March of this year, as the industry climbed its way up from the terrible winter sales results." Furthermore, these very positive results from August were not simply a matter of the month having a soft comparison from August of last year. From a two-year basis comparison, the industry's same-store sales grew by 2.3% during the month.
Same-store traffic growth was -0.5% during August, which represents a 1.1% increase from the traffic growth reported for the previous month. Even though this represents the ninth consecutive month in which the industry has reported declining guest counts year-over-year (and the industry has yet to post a quarter of positive same-store traffic growth since the recession), August produced the best traffic results since November of last year. This improvement notwithstanding, the true challenge for the industry continues to be these declining guest counts as evidenced by the fact that on a two-year basis, same-store traffic declined by 2.1% during August of 2014 when compared with the number of guests reported for August of 2012.
"Another very encouraging indicator behind the strength of the industry's performance in August is that positive same-store sales growth was pervasive throughout the entire country and not just reported in some regions. Each of the 11 regions we track posted positive same-store sales growth in August for the first time in over two years," added Fernandez.
The best performing region during August was Florida with same-store sales growth of 3.6%, while the worst performing region was New York-New Jersey with a 0.2% growth rate. "At the individual market level we found that an overwhelming 154 DMAs out of the 188 individual markets tracked by Black Box Intelligence reported positive same-store sales growth during the month. This was simply the best month for restaurants in a very long time."
Behind these very positive results is an economy showing signs of strength during the month. The University of Michigan consumer sentiment index hit a seven year high in August, fueled by improvements in the labor market, a surging stock market, robust momentum in manufacturing growth and strong housing sales.
"A key indicator for the restaurant industry is disposable personal income which accelerated its growth during July to almost 2.0% annual growth, enabling the robust same-store sales growth we've been experiencing" said Fernandez. "Another key factor is average gas prices, which in August dipped under the $3.50 per gallon mark which Black Box Intelligence has established in the past is where they begin to negatively affect restaurant sales."
In addition to the acceleration of same-store sales, People Report's latest numbers also show a significant increase in new jobs created by the restaurant industry. July posted a 4.4% year-over-year growth in restaurant jobs, a 0.6% raise over the job growth reported for June. Restaurant chains continue to expand and hiring is on the rise. The industry also continues to face growing challenges from the staffing perspective as both restaurant manager and hourly employee turnover rates persist on the upward trend of the last few years. According to the People Report Workforce Index, recruiting difficulties, growing number of vacancies and rising turnover are expected to continue throughout the rest of the year.
The Restaurant Industry Snapshot is a compilation of real sales and traffic results from over 185 DMAs representing 110+ restaurant brands and over 19,000 restaurants that are clients of Black Box Intelligence, a TDn2K company. Data is reported in five distinct segments: casual dining, upscale/fine-dining, fast casual, family dining and quick service. Black Box Intelligence is a sister company to People Report, which tracks the workforce analytics of one million restaurant employees. TDn2K reports on over 30,000 restaurant units, one million employees and 45 billion dollars in sales. The Restaurant Industry Snapshot also includes the Restaurant Industry Willingness to Spend Index from Consumer Edge Research, a monthly household survey of more than 2,500 consumers.