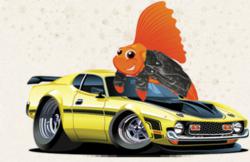 I think Mother Nature really threw everyone for a loop this week.
Augusta, GA (PRWEB) April 06, 2012
As anticipation builds around the trio of big-name golfers competing in this year's annual Masters Tournament, RoadFish.com men's lifestyle and finance magazine today offered up its pick for this year's champ in Tiger Woods. RoadFish.com commented that Mother Nature has added intrigue with Tuesday night's storm, changing the playing conditions on the greens and thus stirring up a number of possibilities for this year's Masters contenders competing for the green jacket and the millions in prize money.
Golf blogger Shane Bacon reported for CBS Sports that in addition to Augusta National's efforts to toughen the conditions on the course—lengthening it, adding trees in new locations, moving tee boxes around—Mother Nature has also drastically increased the difficulty level in playing the course with the storm and 40-mile-an-hour winds that hit Augusta on Tuesday. The article reports that a bathroom near the 16th green was even taken down by falling tree limbs. Bacon states that fans should anticipate lower scores as a result of soft playing conditions and aggressive second shots on the majority of the course. Phil Michelson is quoted in the article as stating, "As soft as the golf course is, you can fire at a lot of the pins. The greens are soft. I don't want to say they are slow, but it's just not the same Augusta…I know they have a SubAir and hopefully they will be able to use it, but unless they change it, it's going to be a birdie-fest."
Golf greats Phil Mickelson, Tiger Woods, and Rory McIlroy will be competing in Thursday's opening lap. Rex Hoggard of the Golf Channel reported that opening day boasts three legitimate favorites for the first time in recent history. Hoggard reports that 4-time Masters champion Woods, a likely favorite in this year's tournament, has finished in fourth-place the last two times he's played at Augusta National. Woods is quoted as saying on Tuesday, "I understand how to play the golf course. I've spent half my life playing here." Hoggard adds that since significant changes were made to the layout of Augusta National in 2002, including adding over 400 yards to the course, Phil Mickelson has finished outside of the top 10 only two times and has taken three championships.
RoadFish.com's Senior staff writer is quoted as saying, "I think Mother Nature really threw everyone for a loop this week. The advantage to the Masters is that it's played on the same course year after year, so the pros have the ability to really learn the course and get a good feel for it. But all that is irrelevant after this week's storm hit and completely altered the playing conditions. It's like everything these guys knew about the course can essentially be thrown out the window. It's going to be a interesting tournament, that's for sure!"
According to the above-mentioned CBS Sports article, Augusta National has a SubAir system beneath their greens, designed remove moisture and aerate the course. These types of systems are used on sports fields and golf courses. Bacon writes that with the SubAir's assistance in rapidly drying out the greens, players could be in for some soft, wet fairways but dry greens that might not play the same as the rest of the course.
Augusta National Golf Club was the number-one ranked golf course in the list of America's 100 greatest courses, as published by "Golf Digest" in 2009. It also ranked number ten in 2011 in "Golfweek Magazine's" list of best classic US golf courses. Augusta National has hosted the Masters since 1934.
RoadFish.com is leaning towards Tiger Woods to take the green jacket home this year. RoadFish.com's Senior staff writer stated, "The storm definitely opened up a world of possibilities, metaphorically and literally evening out the playing field, but I'd still put my money on Woods. I think he's finally coming out of his 2-year slump. I'd like to see him succeed, I think his career has suffered enough in the past couple years. I think that the turning point for him was the Arnold Palmer Invitational, and we can expect great things from him for the rest of the season."
Tiger Woods won the Arnold Palmer Invitational last month, making his first victory of the past two and a half years. He is a four-time Masters champion.
About RoadFish
RoadFish.com is an online men's lifestyle and finance magazine targeted toward men in their 30's and 40's that have already attained a moderate level of success in life, and are striving toward more. It goes over current events of interest to this group, such things as exciting adventures, making money, consumer interests, hot chicks, and new luxury technology as well as ways to make more and save more money. It is a publication owned by Purpose Inc.
###