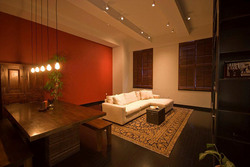 "August Black has had a successful first year working with men from all walks of life and helping them create the bachelor pad of their dreams."
New York, NY (PRWEB) November 9, 2009
August Black, a bi-coastal interior design firm that offers fashionable as well as functional living solutions for the modern male lifestyle, is now celebrating its one year anniversary in business. The company, which has been a leader in creating both comfortable and memorable bachelor pads, is now expanding its offerings by providing men with both design and moving services.
Since the company's inception, August Black has helped men discover "his inner designer" by constructing personalized, high-end residential environments which reflect one's personal success. Whether a home makeover is for larger or more modest living spaces, August Black's creative and caring staff will assist single men in determining the right floor plan, selecting furniture and decorating rooms to create their ultimate bachelor pad.
"August Black has had a successful first year working with men from all walks of life and helping them create the bachelor pad of their dreams," said Taylor Spellman, President of August Black. "As we continue to adapt a man's living space to his aspirations, we will also assist him with his total design needs by offering professional organizing and full-service moving options."
The company is expanding its offerings with August Black Moves, which is a new division that caters to those in need of relocation services. The "Moves" team will not only oversee a bachelor's move into a new residence, it will allow him to come home to a professionally set-up home with pillows fluffed, pictures hung, t-shirts folded and suits hung up!
About August Black
Founded in 2008 by Owner and President Taylor Spellman, August Black offers men a way to match their personal success with a classy and luxurious living space. The one-stop design shop takes the hassle out of home improvement by offering functional, fast and affordable decorating, organizing and moving options. To learn more about this male-focused residential and commercial interior design firm, please visit the company Website at http://www.august-black.com.
Media Contact:
CPR Media Services
1-877-602-9880 Ext. 101
contactus(at)cprmediaservices.com
http://www.cprmediaservices.com
# # #