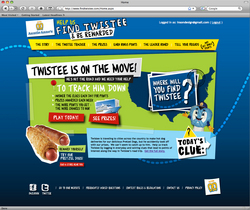 Lancaster, Pa. (Vocus) May 11, 2010
Last year, consumers spent more than $1.6 billion on hot dogs and sausages according to the National Hot Dog & Sausage Council. Building on the popularity of hot dogs, Auntie Anne's best known for its freshly baked, hand-rolled soft pretzels, recently introduced two new flavor toppings to its Pretzel Dog lineup. The Cheese Pretzel Dog is available nationwide and participating locations are offering the Jalapeño Cheese Pretzel Dog as a snack or on-the-go lunch option.
Auntie Anne's limited-time menu items feature a 6-inch Nathan's Famous, all-beef hot dog, wrapped in Original pretzel dough, topped with sliced jalapeños and/or a three-cheese blend, and baked to golden brown perfection. The new flavors are in addition to Auntie Anne's Original Pretzel Dog introduced in 2004 and the Jumbo Pretzel Dog created in 2008.
Individuals also have the opportunity to experience Pretzel Dogs online by participating in a scavenger hunt featuring Auntie Anne's mascot, Twistee. By visiting http://www.findtwistee.com , consumers can solve clues that lead to points of interest where Twistee is traveling across the United States making Pretzel Dog deliveries. Each player who signs up to "Find Twistee" will be entered into random weekly drawings to win great prizes including 4GB Pure Digital Flip Ultra Camcorders and iPod Touch. The top 10 players on the "Find Twistee" leader board at 12:01 a.m. on May 22 will be awarded an ASUS Netbook. The grand prize is an all-expense paid 7-night Caribbean cruise. For every one point earned throughout the contest, one entry will be given for the grand prize drawing.
Currently, more than 14,000 consumers are competing in the "Find Twistee" contest. Individuals can sign-up to participate in the contest between now and May 28. No purchase is necessary to enter the contest.
About Auntie Anne's
Auntie Anne's is the world's largest hand-rolled soft pretzel chain with 1,060 locations in more than 20 countries. The concept mixes, twists and bakes pretzels to golden brown perfection in full view of customers. For more information, visit http://www.auntieannes.com, http://www.facebook.com/auntieannespretzels, or http://www.twitter.com/auntieannes.
Contacts:
Shannon Zimmerman
Senior Public Relations Specialist
717-435-1612
shannonz(at)auntieannesinc(dot)com
Valerie Kinney
Director of Communications
717-435-1610
valeriek(at)auntieannesinc(Dot)com
###