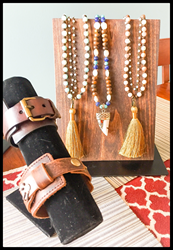 Every time you open a package from Aunt Kitty's Design, it's like unwrapping a gift!
Williston, North Dakota (PRWEB) December 29, 2016
Aunt Kitty's Design (http://www.auntkittysdesign.com), in association with The Artisan Group®, will participate in GBK's invitation-only Luxury Celebrity Gift Lounge Honoring the Nominees and Presenters for the 2017 Golden Globes. The gift lounge takes place on January 6-7, 2017 at an exclusive location in Beverly Hills, California.
The handcrafted jewelry company, founded by designer Kristin Sathe, will showcase on display at the Artisan Group exhibit three casual, bohemian style necklaces from the Gypsy Soul collection and two leather bracelets from the new Unhinged line for men.
The company will gift celebrities its Moonstone and Blue Spinel Bracelet.
Spinel is considered to be a soothing stone because of its calming energy. Therefore, it is recommended for those who are suffering from stress. It is also thought to encourage renewal and healing. Says Kristin, "I love the meaning behind the spinel and its beautiful blue color. This is a simple bracelet that can dress up a casual outfit, or just help a woman feel special on a challenging day."
Recipients will find their bracelet packaged in a small white box with a swirl and the signature Aunt Kitty aqua ribbon and sticker. "We love taking extra care with our packaging," noted Kristin. "Every time you open a package from Aunt Kitty's Design, it's like unwrapping a gift."
The Moonstone and Blue Spinel Bracelet retails for $89.00 and can be purchased online at http://www.auntkittysdesign.com.
Aunt Kitty's Design is about spreading love and light to all those who wear its jewelry designs. The company's mission is reminding both men and women how appreciated and loved they are. Aunt Kitty's Design celebrates the healing properties of semi-precious stones and uses them to help bring peace and balance to the wearer's life.
Aunt Kitty's Design jewelry is available online at AuntKittysDesign.com and at brick and mortar locations Grace and Glam in Williston, North Dakota and The Barbie Shop Fine Arts & Hair Studio in Terry, Montana. The company's participation in the 2017 Golden Globes celebrity gifting was recently covered in the Williston Herald.
Kristin handcrafts all pieces out of her studio in Williston, North Dakota using the highest quality, natural components that are ethically sourced and made with environmentally sustainable resources.
Kristin has a performing arts degree from KD Studio & Conservatory College of Film and Dramatic Arts. She founded Aunt Kitty's Design in 2015, inspired by her life-long interest in fashion and her belief that certain gemstones and essential oils can affect change and give positive energy.
Designing and creating jewelry has also been therapeutic for Kristin as eleven years ago she was diagnosed with multiple sclerosis. Her nervous system was hit hard and it affected her coordination. Through her desire to create beautiful jewelry and a bit of stubbornness she has overcome what the disease tried to take away from her. A portion of every sale goes to support the MonDak Humane Society and the National Multiple Sclerosis Society.
Kristin is a member of by-invitation only The Artisan Group®. Aunt Kitty's Design has been featured on ABC, NBC, CBS, the CW and in The Boston Globe, The Miami Herald, the LA Times and Fox News.
For more information, reporters can contact Kristin Sathe using the Contact button on this press release. Become a fan on Facebook (@Auntkittysdesigns), Pinterest (@auntkittys) and Instagram (@auntkittysdesign) and follow Aunt Kittys Design on Twitter (@AuntKitty15). Shop Aunt Kitty's Design at http://www.auntkittysdesign.com.
ABOUT AUNT KITTY'S DESIGN
Aunt Kitty's Design (http://www.auntkittysdesign.com) is the place to find handcrafted, natural gemstone jewelry with contemporary Bohemian flair.
ABOUT THE ARTISAN GROUP
The Artisan Group® (http://www.theartisangroup.org) is a premier entertainment marketing group dedicated to representing small business artisans at the best celebrity gift lounges and press events. The organization provides a collective sampling of handcrafted products to celebrities and members of the press at top luxury gift lounges such as those leading up to The Academy Awards, The Golden Globes, The MTV Movie Awards and The Primetime Emmys.
The Artisan Group also coordinates product placement of its member's handcrafted products on such hit television shows as Empire, Scandal, The Voice, How To Get Away With Murder, The Vampire Diaries, Days of Our Lives, The Young & The Restless, Modern Family, Jane The Virgin and Law & Order: SVU, among others. Membership in The Artisan Group is juried and by invitation only.
For press inquiries regarding The Artisan Group, please visit theartisangroup.org or email press[at]theartisangroup.org.