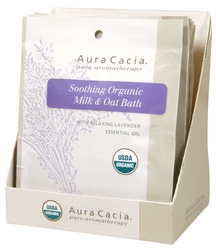 Whether you want to calm dry, itchy skin, relieve bug bites or other skin irritations, or simply soak away the day's stress, this new all-organic bath experience is a perfect way to get comfortable in your own skin
Urbana, IA (Vocus) September 2, 2009
The oatmeal bath is a time-honored means to soothe irritated skin. Now Aura Cacia® has improved on that tried-and-true remedy with the first all-organic milk and oat bath made with 100-percent pure organic lavender essential oil. Soothing Organic Milk & Oat Bath provides instant relief to irritated skin with the added benefits of aromatherapy.
"Whether you want to calm dry, itchy skin, relieve bug bites or other skin irritations, or simply soak away the day's stress, this new all-organic bath experience is a perfect way to get comfortable in your own skin," says Jane Merten, Senior Brand Manager at Aura Cacia.
Soothing Organic Milk & Oat Bath provides the ultimate skin-calming experience by combining the three most sought-after ingredients to relieve irritated skin -- milk, oats and lavender essential oil. Merten explains that the organic milk powder from Organic Valley® creates a skin-nourishing, milky emulsion and silky texture in the bath water. Organic whole-grain oat powder yields all of the grain's remarkable skin-calming, counter-irritant properties for maximum skin benefit. At the same time, Aura Cacia's 100-percent pure organic lavender essential oil offers an extra-gentle, anti-inflammatory, soothing therapeutic benefit and a relaxing herbal aroma.
Aura Cacia's new Soothing Organic Milk & Oat Bath is certified organic according to USDA standards and retails for $3.29. Each single-use packet contains 1.75-ounces of the bath powder. It is available on the Aura Cacia website at http://www.auracacia.com or at any natural retailer that carries Aura Cacia products.
Editors: Product samples and images available upon request.
Aura Cacia® Aromatherapy
Aura Cacia provides consumers with personal-care products made with 100% pure essential oils. Aura Cacia® fulfills consumers' desires for comfort, health and safety in personal care products by combining the benefits of aromatherapy with practical products that can be used every day by the whole family. Find out more about Aura Cacia at http://www.auracacia.com.
Frontier Natural Products Co-op™
Founded in 1976 and based in Norway, Iowa, Frontier Natural Products Co-op™ offers a full line of natural and organic products under the Frontier, Simply Organic®, and Aura Cacia® brands. Products include culinary herbs, spices and baking flavors; bulk herbs and spices; and natural and organic aromatherapy products. Frontier's goal is to provide consumers with the highest-quality organic and natural products while supporting and promoting social and environmental responsibility. For more information, visit Frontier's website at http://www.frontiercoop.com.
###