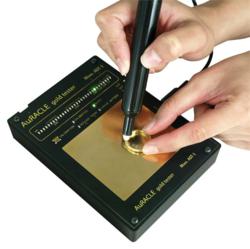 "I've never had much confidence in other gold testers I've seen until the AuRACLE," said Esslinger. "It's the most accurate tester I've seen."
Saint Paul, MN (PRWEB) July 12, 2011
The new AuRACLE Electronic Gold Tester from GemOro, has arrived at Esslinger and Company, St. Paul, MN. This is the ultimate gold tester for anyone who buys or sells gold, testing metals in seconds and providing immediate results.
Introduced at the JCK show in Vegas in the first week of June 2011, the AuRACLE gold tester made waves among the businesses and jewelers present. Among those impressed by the gold tester's abilities was Esslinger & Company's owner Bill Esslinger.
"I've never had much confidence in other gold testers I've seen until the AuRACLE," said Esslinger. "It's the most accurate tester I've seen."
The AuRACLE gold tester features patented testing technology that will test gold of all color variations from six karat gold to 24 karat gold, platinum, and even distinguish between gold filled, gold plated, and solid gold pieces. The results appear on the LED display within seconds, and it can test multiple items in a row.
Unlike similar gold testers and other more expensive X-ray gold testers, "this is the gold tester to invest in, it gives consistent results every time," said Esslinger.
The AuRACLE gold tester is a non-destructive test: it does not require the use of any gels, staining chemicals, or acids to test metals. As it doesn't use any fluids or chemicals, this gold tester is safe to use when testing unknown metals.
The LED display provides specific and easy to read results. When a green light appears, it indicates that the metal falls within a range of an actual karat weight. If a green light appears, it is indicating that the metal falls between several karat weights and needs to be examined more closely. Should a red light appear, the metal that is being tested is definitely not actually gold, it is simply plated or another metal like silver.
With easy to understand results, this gold tester is a $299 investment that will last for as long as a business needs to continue testing gold: the included pen probe testing tip will provide approximately 5,000 gold tests and when the pen probe needs to be replaced, a new probe is available for only $19.95.
Visit Esslinger Gold Testing Supplies at esslinger.com for more information on the GemOro AuRACLE gold tester.
###