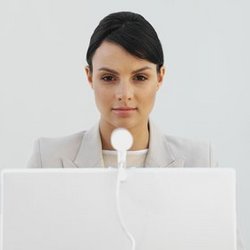 The ability to add audio only participants is a great addition to the Auralink suite of services
Malvern, PA (PRWEB) March 23, 2011
Cenero announces the availability of a new feature for Auralink, the high definition video conferencing service. Auralink now allows audio-only participants to join in Auralink web-based video meetings. By way of an easy to use interface, Auralink users can now invite traditional audio conferencing users to participate in meetings.
"The ability to add audio only participants is a great addition to the Auralink suite of services," said Michael Cosgrave, Auralink Product Manager. "This will only help to enhance the accessibility and mobility of thie already versatile service. Auralink users can now not only make calls from their desktops to Polycom, Tandberg or LifeSize units, but now can include communication with any phone. Auralink users can now easily communicate with virtually anyone and from anywhere."
The new audio conferencing feature is the latest enhancement to a product that already offers access to the multi award winning platform from Vidyo. Auralink allows for unlimited multipoint HD video conferencing, content sharing, recording services and seamless connectivity to legacy video codecs all over the general purpose internet.
To try Auralink free for two weeks or for more information about the new audio conferencing feature, visit http://www.auralink.com or call 1 (888) 454-6863.
About Auralink
Auralink is a desktop video conferencing service provided by audio visual and conferencing solutions provider Cenero. Auralink allows subscribers to leverage the new H.264 Scalable Video Coding (SVC) standard and host HD quality video conferences over the internet and other general purpose IP networks. For more information visit http://www.auralink.com.
###