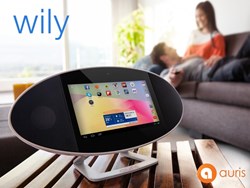 wily is great because it can operate with other devices, but it doesn't require them. It's a standalone solution that provides a truly exceptional entertainment experience.
Santa Clara, CA (PRWEB) January 28, 2014
On February 2 Auris, Inc., will launch wily, an innovative variation of the portable speaker that utilizes the Android platform to bring users a one-of-a-kind experience. Equipped with a 7-inch LCD touch screen and the capability for 90 db of rich audio, the wily brings users a smarter way to enjoy everything from music to movies and audiobooks.
The creators at Auris saw an inconvenient gap in the current market for speakers, as most of them require multiple devices to operate. As an addition to the growing 'Internet of Things,' wily offers a solution that combines today's best visual and interactive technology with exceptional sound quality. It's no longer necessary to be dependent on multiple devices to stream music and videos from popular apps.
"We wanted to make it easier for people to stream their favorite music and watch their favorite shows with high quality sound," said Jay Shah, one of the creators of wily. "wily is great because it can operate with other devices, but it doesn't require them. It's a standalone solution that provides a truly exceptional entertainment experience."
Because it operates on the Android platform and has built in Wi-Fi, the wily provides uninterrupted access to more than one million apps found in the Google Play store. Don't worry though, it is still equipped to stream from any Bluetooth enabled device, so one can stream to it from a phone just like a standard Bluetooth speaker. wily will also turn any television into a smart television with video streaming in full HD with HDMI. For those who participate in Google hangouts or use other video conferencing tools, the wily also includes a 2MP front-facing camera and built-in microphone with echo cancellation.
Despite the detailed focus on the user interface, Auris does not sacrifice the audio experience that the wily brings to listeners. Utilizing a Class "D" Digital Amplifier and custom tuned drivers, the compact portable speaker generates exceptional sound quality. At just 2.3 lbs, wily comes with the customer's choice of eight or 16 GB of memory; however, it has Micro SD expandable storage up to 64 GB. A Micro USB slot makes transferring content from other sources simple.
Auris will launch on Kickstarter on February 2 with a goal of $65 thousand, the amount required to bring their 'Smarter Speaker' to market. Backers will be able to choose from a variety of pricing packages ranging from $10 to $208 to pre-order and support the wily. The eight GB version starts at just $149; the 16 GB version starts at $168.
For more information on the Auris wily, and to keep up with the campaign, visit http://www.theauris.com. Also, like Auris on Facebook and follow them on Twitter @theauris.
ABOUT AURIS
Founded in 2012 and lead by Jay Shah, the Santa Clara-based startup aims to design new, groundbreaking technology to simplify the lives of their consumers. Comprised of a group of innovative individuals with a shared passion of wireless technology, Auris aims to redefine how we listen to music. Touchkraft LLC, co-founded by Shah, successfully launched auris, a Bluetooth receiver for your music dock on Kickstarter, and surpassed its funding goal in October 2012. That project raised $131,911 with 2,990 backers from more than 50 countries. Upon completion of Kickstarter, Auris sold more than 11,000 units in 17 countries. Auris' most recent project, a Wi-Fi receiver for music docks called skye, also drew success in October 2013. Surpassing its funding goal by more than $100 thousand, skye garnered $167,486 and drew 2,006 backers. For more information visit http://www.theauris.com.