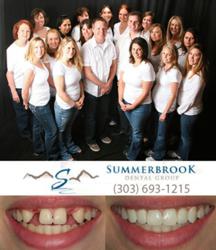 Affordable Dental Implants in One Day!
Aurora, Colorado (PRWEB) January 22, 2013
Aurora dentist, Dr. Jim Craig of Summerbrook Dental Group is excited to announce his newly updated dental implants in a day service. Summerbook Dental is known for providing their patients with the kind of care and attention they simply can't find anywhere else. Now, with this new service, Summerbrook Dental Group is fast becoming the dentist Aurora CO patients turn to when they are looking for professionally done and affordable dental implants.
One thing this Aurora dentist office values more than most is the input of the patient. Whether it's a first time visit to the office or a regular checkup, the doctors at Summerbrook Dental Group always emphasize the care plan they feel is best, but also respect and encourage a patient's right to participate in choosing their care. There is no such thing as "the ideal treatment", and the options offered by this practice provide plenty of alternatives to choose from.
"Most patients think the only option for replacing missing teeth is a removable appliance or a bridge. Today, dental implants can be painless, and can be completed in just a single appointment," said Dr. Jim Craig, dentist Aurora CO.
Permanent dentures are a far better option than traditional, removable dentures, according to Dr. Craig, and they offer a stable solution to any cavity or tooth decay issue. As a dentist Aurora CO residents turn to when serious dental issues surface, Dr. Craig vouches for permanent dentures as the best method of preventing patients from experiencing further setbacks.
"Most of my patients with dentures hate them. They think that they are stuck with them because for years there were no other options. Now, there are permanent dentures that patients don't have to take out, and that never get another cavity," said Dr. Jim Craig, Aurora dentist professional.
The professionals at Summerbrook Dental Group care a lot about their community, and the charity dental work they've done goes to prove that. These Aurora dentists have restored smiles to local patients who've been neglected and ignored for years. With this new updated dental implants in a day service there is also financing available. In many cases insurance will cover most, if not all, of the work done.
Summerbrook Dental Group is known for combining the personal touch of a local business with the level of care and professionalism that only the best in the industry can match. They pride themselves on using the most cutting edge technology and materials in the field and practice the highest safety standards in the profession. Perhaps best of all, they are committing to serving their patients needs on weekends and holidays if needed.
As an Aurora dentist the community respects, the doctors at Summerbrook Dental Group look forward to the patients they will be able to serve through this updated dental implant service.
About Dr. Jim Craig and Summerbrook Dental Group
Dr. Jim Craig did his undergraduate work at Brigham Young University in Provo Utah, and graduated from dental school at the University of Missouri at Kansas City. Dr. Craig served briefly as a student professor at the University of Missouri Dental School where he taught courses in Clinical Dentistry, Biochemistry and Histology. Dr. Craig and his wife, Angela are the proud parents of 4 great kids. Dr. Craig and his family love the outdoors, and are constantly in search of the perfect campsite, mountain biking trail or rock to climb. Dr. Craig and his wife love living in Denver.
For media inquiries, please contact Summerbrook Dental Group:
Summerbrook Dental Group
14991 E Hampden Ave #370
Aurora, CO 80014
(303) 693-1215