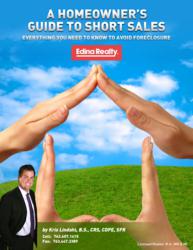 "Until the national short sale calculator is online, people can use the Minnesota or Wisconsin short sale calculator website to determine their short sale eligibility, regardless of their geographical location."
Blaine, MN. (PRWEB) October 08, 2012
Kris Lindahl, an experienced Aurora Short Sale Agent uses all means available to reach people with the short sale information they are looking for. Aurora Bank mortgages create special circumstances for people that are looking for a short sale, because Aurora Bank has closed and transitioned all accounts to new servicers. People with Aurora Bank mortgages should receive information from their new mortgage servicer concerning the transition.
Kris Lindahl has helped many people with this transition, and completed many successful short sale closings. "With the short sale already being very complex, this transition can create even more issues, and hold up many people's short sale closing," Kris Lindahl the #1 Edina Realty short sale agent explains. "I have been working around the clock creating resources and tools that people can use to get information about the short sale process, so they know what they are up against before they begin," Kris Lindahl says.
Kris Lindahl, the experienced Aurora Short Sale Agent, participated in the requirements to obtain the Certified Distressed Property Experts (CDPE), and Short Sale & Foreclosure Resources (SFR) designations. Kris Lindahl has reached the designation of the #1 Edina Realty Short Sale Agent by bringing a level of technological expertise to the table, unmatched by few other agents in the industry.
"Because people are using technology to find the information they are looking for, I have spent months creating websites, eBooks, and videos so it would be easy for people to get the short sale information they need to see if the short sale process is a viable option," Kris Lindahl explains.
"I created a couple of websites that have short sale calculators, so people in Minnesota looking for Minnesota short sale information, and Wisconsin residents interested in Wisconsin short sale information can figure their short sale eligibility on their own," Kris Lindahl the #1 Edina Realty short sale agent says, and adds, "Which can be found at MNShortSaleCalculator.com and Wisconsin residents can check their eligibility at the WisconsinShortSaleCalculator.com website.
"I am currently creating a national short sale calculator website, for people that live anywhere in the United States to use, so they can determine their short sale eligibility," Kris Lindahl, the Aurora Short Sale Agent explains, and adds, "Until the national short sale calculator is online, people can use the Minnesota or Wisconsin short sale calculator website to determine their short sale eligibility, regardless of their geographical location."