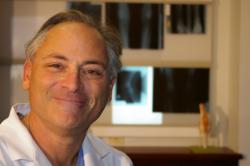 I'm very excited about the e-plus™ 3DKnee™ procedure!
Aurora, CO (PRWEB) April 03, 2013
Dr. Stewart K. Weinerman, Aurora and an Englewood orthopedic surgeon from Colorado Orthopedic Consultants, is performing the e-plus™ 3DKnee™ procedure for individuals in need of total knee replacement. He is the first doctor in the Denver Metro to carry out this operation, having completed it at The Medical Center of Aurora.
In this kind of surgery, doctors connect one metal component to the thigh bone (femur) and another to the shin bone (tibia). To enable movement, they also fit a polyethylene component between these two so the femur can move successfully against the tibia. Because it is thermoplastic in nature, the polyethylene is subject to wear and tear through oxidation, which affects the durability of the knee replacement.
To prolong the effectiveness of the procedure, Dr. Weinerman uses the e-plus™ insert with the 3DKnee™ (Data Driven Design) system, which was crafted to help individuals enjoy increased strength, stability, and flexion. The insert is formulated with vitamin E, which, as a natural antioxidant, strengthens the polyethylene and reduces its susceptibility to wear. For full functionality, the vitamin E is combined with the resin before it undergoes compression molding.
With e-plus™ integrated with the 3DKnee™ system, total knee replacements are shown to experience 57% less wear in laboratory tests. This is an improvement over their long-term performance when implemented with the Direct Molded insert traditionally used with the system. To date over 30,000 successful 3DKnee procedures have been performed worldwide.
"I am very excited to offer my patients the highest level of technology accessible to take full advantage of the benefits provided by knee replacement surgery." – Dr. Weinerman, Englewood and Aurora orthopedic surgeon
Interested parties looking for a reliable Englewood or Aurora orthopedic surgeon can turn to Dr. Weinerman and the other professionals at Colorado Orthopedic Consultants for their competence in utilizing advanced medical technology.
About Colorado Orthopedic Consultants
Operating in Denver with offices in both Aurora and Englewood, the practice is composed of a team of board certified physicians who aim to provide comprehensive surgical and nonsurgical care for musculoskeletal disorders. Dr. Stewart K. Weinerman joined the practice in 1986 and specializes in general orthopedics and arthritis, shoulder, and knee reconstruction. In addition to serving as associate professor of orthopedics at College of Osteopathic Medicine of the Pacific and the University of Colorado, he has served as chairman of the department of orthopedic surgery for 4 years.
For media inquiries, contact Sherry Blea, Administrator at Colorado Orthopedic Consultants, at either their Aurora or Englewood location:
Colorado Orthopedic Consultants
1411 S Potomac Ste 400
Aurora, CO 80012
(303) 695-6060
Colorado Orthopedic Consultants
401 W Hampden PL STE 220
Englewood CO 80110
(303) 671-2149