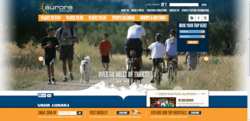 Aurora, CO (PRWEB) January 05, 2012
Visit Aurora is proud to announce the launch of their new interactive website, part of a new partnership with MICROS eCommerce Services|TIG Global, a subsidiary of MICROS Systems, Inc. and leading interactive marketing company for hospitality and travel.
"We are excited to launch the new Visit Aurora site with MICROS eCommerce Services|TIG Global. This comprehensive and interactive site creates a true presence and destination identity for Aurora, allowing visitors the opportunity to see all our city has to offer as a great place to visit," says Gary Wheat, President and CEO of Visit Aurora.
The new website is graphically heavy, allowing users to virtually experience what it's like to visit Colorado's third-largest city and the "Gateway to the Rockies" without ever leaving the comfort of their living room or office. The dynamic website will allow Aurora to highlight its many attractive offerings for potential visitors, residents and businesses alike, including its vibrant healthy culture and rich medical community.
"MICROS is proud to partner with Visit Aurora," states Jos Schaap, President of MICROS eCommerce Services|TIG Global. "We look forward to showing the destination how MICROS eCommerce Services and TIG Global creates dynamic, interactive websites that serve as a compelling first point of contact for visitors and at the same time provides a valuable marketing and revenue-tracking service for the area."
Visit Aurora's new website is now live. Hi-res imagery, screenshots and web demonstrations are available to media in the online press room.
About Visit Aurora
Aurora, Colorado's third-largest city, sits at an elevation of 5,435 overlooking Denver and Colorado's Rocky Mountain Front Range. Home to over 330,000 residents, Aurora has numerous awards and accolades for its healthy and active lifestyle and offerings. The eastern-most city in the metro Denver region, Aurora boasts Buckley Air Force Base, which houses all five branches of the military as well as allied forces, as well as nationally-ranked University of Colorado Hospital, nationally-ranked Children's Hospital Colorado, the University of Colorado Medical School and the Medical Center of Aurora. Adjacent to Denver International Airport, the city is also home to the Aurora Sports Park, the Rocky Mountain Region's Premier Youth Sports Complex. Truly the Gateway to the Rockies, Aurora serves as one of Colorado's leading cities.
About TIG Global
TIG Global, a subsidiary of MICROS Systems, Inc., is dedicated to assisting the travel industry with exceeding their online marketing goals. Serving an extensive portfolio of clients worldwide, TIG Global combines its industry knowledge and e-business expertise to help clients maximize the online channel. TIG Global offers multi-language websites, a vast network of internationally based strategic linking partners, email and pay-per-click marketing campaigns tailored to all international markets, custom social media solutions, and websites optimized for major search engines around the world.
###