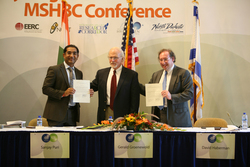 We look forward to working with EERC to improve outreach to Indian companies in the renewable energy market. We are sure this will be the start of a rewarding partnership for both organizations.
Washington DC (Vocus) September 17, 2010
The Alliance for U.S.-India Business (AUSIB) and The University of North Dakota's Energy & Environmental Research Center (EERC) entered into a Memorandum of Cooperation (MoC) on September 14, 2010. The two have partnered regarding the development of alternative energy systems for transportation and technologies for hydrogen infrastructure and transportation.
EERC is a research, development, demonstration, and commercialization facility at the University of North Dakota. The EERC is recognized as one of the world's leading developers of cleaner, more efficient energy and environmental technologies to protect and clean our air, water, and soil.
The MoC states that the parties recognize and acknowledge the importance of establishing renewable and hydrogen energy systems as a future basis for transportation, stationary power, and portable power infrastructure and agree to cooperate in the pursuit of funded projects to promote, encourage, build, operate, and commercialize hydrogen energy infrastructure and transportation systems in their respective countries.
The ceremony took place in the EERC's Discovery Hall and included remarks from EERC Director Gerald Groenewold; Sanjay Puri, President of the Alliance for U.S.-India Business and David Haberman, President, IF, LLC, representing the Israel Energy Partnership who signed also signed a MoC with EERC.
"This is a proud day for UND and the EERC," said University President Robert Kelley. "The signing of these two Memoranda of Cooperation will establish strategic relationships vital to leveraging our respective nations' resources and capabilities," he said.
Sanjay Puri, AUSIB Chairman said, "We look forward to working with EERC to improve outreach to Indian companies in the renewable energy market. We are sure this will be the start of a rewarding partnership for both organizations."
For more information about EERC please visit http://www.undeerc.org/
About AUSIB: The Alliance for U.S. India Business (AUSIB) is a leading non-profit trade association that offers a pathway to help your business succeed in the United States and India. AUSIB seeks to augment investment flows and trade between the U.S. and India and open new channels of communication between business and government leaders. For more information please visit http://www.ausib.org/
Follow us on Twitter at http://twitter.com/ausib_tweets
###