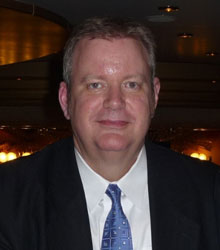 It's time for Texas to pass and implement a bill that would completely ban texting while driving to help make our roads safer.
Austin, Texas (PRWEB) December 01, 2012
Austin car accident attorney Don R. Cotton expressed support today for measures recently pre-filed in the Texas legislature that would outlaw texting while driving for all motorists in the state.
"Study after study shows that distracted driving is a serious problem in this country and in Texas, and texting is the worst distraction of all," said Cotton of The Bob Richardson Law Firm, a personal injury firm with offices in Austin and Waco. "It's time for Texas to pass and implement a bill that would completely ban texting while driving to help make our roads safer."
Last month, Texas lawmakers pre-filed at least six bills that would enact a texting ban in anticipation of the next legislative session that starts on Jan. 8, according to an article in the Austin American-Statesman. The Texas legislature passed a texting ban in 2011, but the law was vetoed by the governor.
Current Texas laws ban cell phone use, including texting, only for new drivers age 18 and younger and school bus drivers who are transporting children. Use of handheld phones and texting is also banned in Texas school zones.
"Texas must go beyond the laws currently on the books and ban texting for all drivers," Cotton said. "Our firm encourages the legislature to consider laws that would curb other forms of distracted driving as well."
Thirty-nine states and the District of Columbia have laws against texting while driving.
The federal website distraction.gov describes distracted driving as any activity that can divert attention from the task of driving. Common distractions include eating and drinking, talking to passengers, grooming and using a navigation system. The site identifies text messaging as the most alarming distraction because it requires visual, manual and cognitive attention from the driver who is supposed to be focusing on the road.
According to the website, all distractions endanger driver, passenger and bystander safety. Federal data show that 3,092 people were killed in crashes involving a distracted driver in 2010, and an estimated additional 416,000 were injured in motor vehicle crashes involving a distracted driver. Eighteen percent of injury crashes in 2010 were reported as distraction-affected accidents.
In addition, 11 percent of all drivers under the age of 20 involved in fatal crashes were reported as distracted at the time of the crash. This age group has the largest proportion of drivers who were distracted. A study from the Pew Research Center reported that 40 percent of all American teens say they have been in a car when the driver used a cell phone in a way that put people in danger.
"These statistics show how crucial it is that we do everything we can to minimize all forms of distracted driving, which has been shown to cause serious injuries and deaths," Cotton said. "At The Bob Richardson Law Firm, we also want to remind victims of distracted drivers that they can hold those negligent drivers liable even without a blanket texting or cell phone ban in place in Texas."
The Governors Highway Safety Association states that while many states have passed laws that address behaviors such as texting or using a cell phone while driving, drivers should not use cell phones or other electronic devices while driving, regardless of the local law.
Cotton encouraged victims of distracted drivers to seek legal counsel from a qualified Austin car accident lawyer like those at The Bob Richardson Law Firm.
About The Bob Richardson Law Firm
The Bob Richardson Law Firm is a highly respected Texas personal injury and Social Security disability law firm. The firm is dedicated to providing skilled and professional legal services to clients in cases involving car accidents, motorcycle accidents, truck accidents, drunk driving accidents, construction accidents, workplace accidents and slip-and-fall accidents as well as representation to those seeking benefits for Social Security Disability Insurance (SSDI) and Supplemental Security Income (SSI). The firm features offices in Austin and Waco and assists clients throughout Round Rock, Georgetown, Killeen, Temple, Cedar Park, Lakeway, Taylor, Belton and surrounding Texas communities. The firm's principal office is located at 812 San Antonio St., Suite 300, Austin, TX 78701 (local phone (512) 472-5100). To learn more about The Bob Richardson Law Firm, call (800) 880-5100 or use the firm's online form.